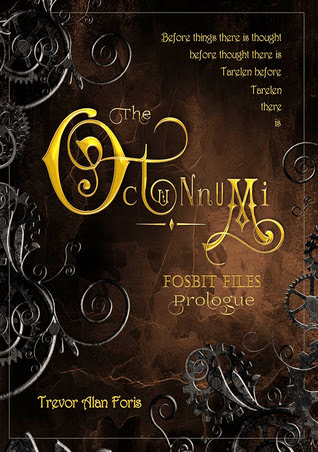 'Mr Tradien, I am not telling you, I am narrating: that's my job.'
According the little we know about him, author Trevor Alan Foris is 'currently halfway through the second of many, many books that are The Octunnumi, a just out of sight, doesn't really exist world of mythical creatures and magic. Of course the mythical creatures take great issue with this title as they are of course not mythical at all, being the native inhabitants of the planet Earth way before – well a long time ago; and as for magic, there is no such thing. Like the aforementioned non-mythical creatures, the abilities of the Tarelen peoples are in no way magical. After all, mind control, telepathic communication, telekinetic control over objects is no different to any one of us breathing and is that considered magic? No, of course not, although a rock might disagree.'
A richly colorful – both verbally and visually- epic novel seems daunting at first, but the author seems to be giving us permission to lose time and place and sense and reason and juts string along with the wild meanderings this story presents.
Perhaps the best introduction to the lyrical writing by Trevor is to offer the opening lines of the book for an appreciation of the style and color in store: 'Are you insane?' Octunnumi Alliance Operatives, Reigous Sedwint Eniexous and Tradien Everwick Thivimus, currently enjoying their most recent regeneration as eighteen year-olds for the umpteenth time, crouch, their backs against one of the many concrete pillars that support the crumbling roof of the abandoned warehouse. Through the gloom, overturned boxes, crates, tables and chairs that lie scattered about the vast space are highlighted by the purple moonlight filtering through the begrimed windows high above them. 'We don't have time for this, Trad,' Reig continues in a hissed whisper to his twin. 'If she finds out—' 'Relax,' Trad replies, flicking his hand in the direction of a stack of large crates opposite them. When they collapse and reveal nothing, he grumbles, 'Dammit, I could have sworn…' 'Relax!' Reig exclaims. 'You've brought us to an Innesomid we are not supposed to be in, slap in the middle of a... a…' streaks of white light zap around them, dislodging Reig's hat and sending it spinning on its side across the floor. Rolling his eyes, he continues, '… a war zone, when we should in fact be heading to Fethrist, also an Innesomid not on our to do list, I might add, but given where we actually are, that would be preferable.''
Too ominous to summarize, the following hints at the flow of the book's content – The Octunnumi is an alliance of individuals who have unique powers, that are used to protect the Innesomids, which are territories that share the same time and space. 18-year-old brothers Rieg and Trad are agents of the Octunnumi, and although they leap between the Innesomids to tackle pretty minor problems, they suddenly find themselves tasked with preventing a former member from destroying everything in a heinous revenge plot. Will they succeed? Or will life be over as they know it. This is an unforgettable journey through many magnificent worlds, heading toward the ultimate confrontation with a villain set on destroying it all.
There is a passage from Shakespeare's Tempest that shares a similar atmosphere – 'And like the baseless fabric of this vision, "The cloud-capped towers, the gorgeous palaces, The solemn temples, the great globe itself— Yea, all which it inherit—shall dissolve, And like this insubstantial pageant faded, Leave not a rack behind. We are such stuff As dreams are made on, and our little life Is rounded with a sleep.' Be patient on this journey to enter another world.
Editor's note: This review has been published with the permission of Grady Harp. Like what you read? Subscribe to the SFRB's free daily email notice so you can be up-to-date on our latest articles. Scroll up this page to the sign-up field on your right.