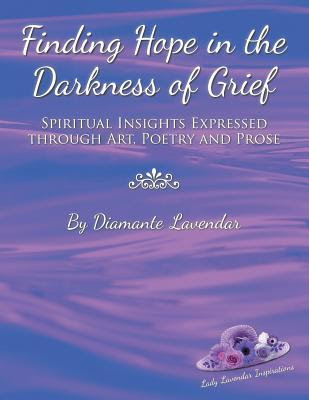 'Live your life with a grateful heart so that love and goodness can transform you.'

Midwestern author/artist Diamante Lavendar writes books based on self and spiritual discovery such as coming-of-age stories and stories involving the overcoming of hardships that afflict the "human condition."

Diamante's mission is to assist her fellowman achieve happiness and wisdom in the face of apparent heartbreak and failure. As she has said,' Nobody is immune, but everyone has the opportunity to grow tall or wither like a flower in harsh light. It's completely up to us how we choose to respond.

In a book rich in imagery such as photographs and other art forms Diamnate offers short thoughts, poems and prose that are sensitive and inspirational.

Even during the times you feel most alone,
there is always a presence watching you,
hearing your internal dialogue.
Don't be afraid. Don't feel alone.
Let the light lead you.

In the dark night of the soul,
it is a tremendous help to know
that you aren't alone.
Negativity wants to twist your thinking
and make you believe
that no one else can understand your pain.
This is a dangerous deception.
It prompts you to believe in the illusion of separation
rather than the truth of togetherness.

Things will be bad
And things will be good;
The important thing is
To flow with it…
(Knock On Wood).


Grief comes in many forms.
The most obvious is death. Other forms of grief
include abuse, loss, and difficult life changes, such as divorce.
While these experiences are heart-wrenching, they are also life-changing.
Spirit's great wisdom uses all forms of teaching to expand us
and to create depth within us.
While grief is not fun to deal with, it is a valuable tool
to bring about amazing change and growth. The key to this deep level of learning
is attitude. How will you respond to the pain you're feeling?


Being positive
Does not happen
By chance.
It is a decision.

Don't chase your dreams.
Let them overtake you!

Quiet, soothing, constructive advice from a spiritual artist who obviously cares.
Editor's note: This review has been published with the permission of Grady Harp. Like what you read? Subscribe to the SFRB's free daily email notice so you can be up-to-date on our latest articles. Scroll up this page to the sign-up field on your right.