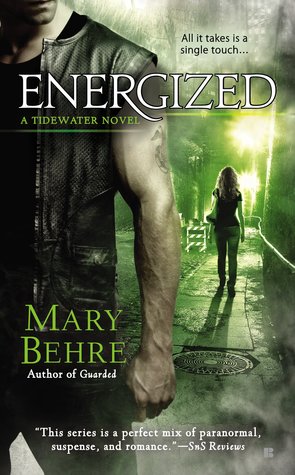 The previous novella, Harmonized, had a mystery and drama too, but it was more like the calm before a storm. It was a great lead in for this next book. Energized is like a hurricane of storytelling; with so much action and amazing clues being tossed my way, it was hard to put the book down. And I didn't want to. What an amazing read!
The first chapter doesn't really clue a reader in on what is going to happen but it does present some wonderful snappy dialogue, great man/woman flirting and insight as to the hero's frame of mind. The author showed a reader two people who, although strangers, ignited a special spark of … something … that romance readers will interpret correctly. There's a lot of emotion packed into that first chapter but the best is yet to come.
The conflict, referenced very briefly in Harmonized, takes on an ominous and freaky turn and becomes a full blown murder mystery with time being of the essence. Thing is, no one knows. The author clues a reader in who just might be the next victim and it gave me goosebumps. At no time did I guess who the villain was so I was just as shocked and horrified as the heroine.
I know I should be sharing about how wonderful Niall and Hannah are together, because they are. They are awesome. But what really stuck with me was how the author had me in the villain's head, reliving memories of youth – all the pain, the horror and the twisted forms of abuse received. It was like a train wreck – hard to look away from because it's so stunning and unexpected. And when the clues finally came together, I was dumbfounded. Hannah was shocked and totally grossed out. As well she should be. I wanted to feel sad for the villain because the bad person was as much a victim as the future victims of the resulting personality the villain became. I am having a hard time not giving spoilers here because it's really incredible. Let's just say that Ms. Behre created a villain that was truly irredeemable. I can't see how romantic suspense fans can be anything else but wowed by this novel. I know I was.
On the lighter side of things, Hannah is finally reunited with her sisters. How it happens in the course of the story is another amazing feat of storytelling. The author did not do it simply or easily, which added to my being unable to put the book down. Every time I thought it was going to happen, something else did and I was thrown for a loop every time. Especially at the wedding reception where I believe I yelled at the book, 'Seriously? Now? Oh, come on!" – in the best possible way. I thought for sure Hannah was a goner. How exciting!
Getting back to the man/woman thing between Hannah and Niall, it was many things: sweet, funny, tender, exasperating, sexy, okay, VERY sexy, exciting, thrilling, sad, happy – pick an emotion, it's all there, including fear. The one thing that stood out for me was Hannah's calling Niall, Marine. It's one word but it carries a wealth of meaning in this story. You'll see when you read it. For me, it was extremely romantic and sweet – eventually.
There is a great happy ever after wrap up and for all the drama there is quite a bit of humor sprinkled throughout the novel. There are family issues, job issues, electrical issues and cooking issues. There is a great supporting cast and it was fun to see Karma still giving Zig some zings and kisses. There's even a couple of dramatic rescues that almost led to hyperventilation – the writing was that tight and strong.
All in all, Energized knocked my socks off. It's a powerful, well written mystery with a romance that made me melt. It's a keeper, it's a solid recommend and it's a testament of Ms. Behre's storytelling talents. Romantic suspense readers can't go wrong when they read books by Ms. Behre – she delivers solid high quality novels that are well worth the time spent reading. Energized is a winner. And, I'm a very happy reader.




Editor's note:
This article was originally published at Long and Short Reviews. It has been republished with permission. Like what you read? Subscribe to the
SFRB's free daily email notice so you can be up-to-date on our latest articles. Scroll up this page to the sign-up field on your right.