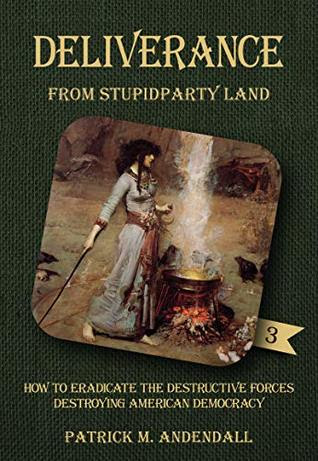 'Let's replace "Stupid with Smart"!'
Author Patrick Andendall has lived on both sides of the pond and though trained in the UK and having absorbed the qualities of British governance first hand, he then moved to the US (he currently lives on Long Island, NY) and has always had an interest in politics and is able to he view issues from a more international perspective. In 2004, five days before the election, he flew to Cleveland and pitched in to help with the political process. What he discovered was the dissolution of the American Dream, which he writes about in his book, STUPIDPARTY – an hilarious dissection of the Republican Party. Andendall's book became a controversial one in that it examines the decline and slippage of the Republican Party (thanks to the Tea Party constituency and other boorish factors/blunders by very public figures) into what Andendall has labeled the Stupidparty.
For those who have been following Patrick's hilarious s (and terrifying!) versions of US politics this book will come as no surprise. It is the third edition and likely has most successful to date. Read it slowly to catch all the innuendoes and outright debacles. The flavor sets in in his opening introductory comments: 'These opening thoughts were born out of a controlled drunken stupor. That is the only way I can sleep after I witness distraught parents thinking it's a good idea to go to the Trump White House to discuss how to make schools safer from school shootings. I feel so bad for them, but they are delusional. As in a Greek tragedy, Oedipus Rex in reverse, played out every week on the national stage, we see these parents asking the wrong questions—seeking the wrong answers. The signs were all there. They were literally all there—Trump's actual compassion-reminder notes to himself clutched in his hand during that absurd meeting. Their kids had paid the ultimate price, but the penny had yet to drop. I cry, I drink, I chew on medicinal vegan cookie dough marijuana—very un-British. Finally I sleep. But all the parents of the Stoneman Douglas High School kids have so much to be proud of—their kids an instrumental part of a likely cultural seismic moment, their response bold, articulate, intelligent. This book was completed around the time of the death of Stephen Hawking—his death serving to remind me of both my fallibility and how much I learned from him. In this book I shower contempt upon certain individuals, I use religion against the delusionally religious. But Hawking will always humble me, remind me that compared to him (and many others), my brain could be so much larger. I read some fun books and learn—that's but the tip of the iceberg, as there are thousands of pertinent books I will never read, massive amounts of knowledge I will never gain. Bookworms—they have so much more than I.'
How Patrick can bring such insights along with his colorfully illustrated and acerbic/hilarious creation of the SmartParty (Platform- Implement campaign Finance Reform, End gerrymandering, End voter suppression, Ensure that any tax package must address income discrepancy trends and clean vs unclean energy, Tax asset-stripping companies, and Change gun control) proves that he is the favored court jester of our day. Do not miss this analysis of where we are!
Editor's note: This review has been published with the permission of Grady Harp. Like what you read? Subscribe to the SFRB's free daily email notice so you can be up-to-date on our latest articles. Scroll up this page to the sign-up field on your right.