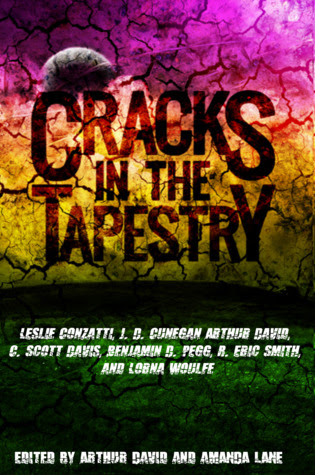 The unknown untried waits to be explored Who has the courage to look beyond?
California author Arthur David opens this new anthology with the following comment – 'Writing has always been something of a solitary experience, for me at least. I don't have many friends who are writers, and I haven't collaborated with many who are. So imagine my surprise when I woke up one day and thought how great it would be to do an anthology with a bunch of other authors. The idea bounced around my head for a little while before I put it out into a couple of author groups I belong to. I was overwhelmed by the amount of interest the idea generated. Now, I find myself working with this incredible group, all towards the purpose of putting our various worlds together into one volume for everyone to enjoy. When this idea popped into my head I never would have guessed there would be this many talented authors wanting to work and share their talents with each other. Now race car drivers, mermaids, spies, warriors, priests, and scientists inhabit the same space today, tomorrow, and yesterday. But more than that it has been my pleasure to work with authors Leslie Conzatti, J. D. Cunegan, C. Scott Davis, Benjamin D. Pegg, R. Eric Smith and Lorna Woulfe and to edit all of their incredible work with Amanda Lane. Beyond just the enjoyment of working with everyone on this, it has been an honor to be trusted with their work, and to be a part of this group effort to bring it all together for you, our readers. I hope you enjoy it as much as I have. If you do then you should find them all on Facebook, Twitter, Instagram or wherever else they reside. You won't regret it. If you really enjoy their work, find them on Amazon. Then take a closer look, because there are more Cracks to peer through than just in this Tapestry.'
Arthur David not only edited this book but also contributed the opening story 'Ghosts of the Past'. Seven authors in toto make up one very entertaining versions of science fiction and fantasy short stories. The other stories are 'Revival of Om' by R. Eric Smith, 'Life at the Speed of Time' by J.D. Cunegan, 'The Sky‑Rock Thief' by C. Scott Davis, 'Through the Eyes' by R. Eric Smith, 'Heartsong' by Leslie Conzatti, 'The Sioux' by Benjamin D. Pegg, and 'The Crack in the Tapestry' by Lorna Woulfe.
The stories vary in length and theme but they are all worthy of inclusion in this very solid anthology. A terrific book to keep at bedside for a little tilt to you imagination before sleep.
Editor's note: This review has been published with the permission of Grady Harp. Like what you read? Subscribe to the SFRB's free daily email notice so you can be up-to-date on our latest articles. Scroll up this page to the sign-up field on your right.