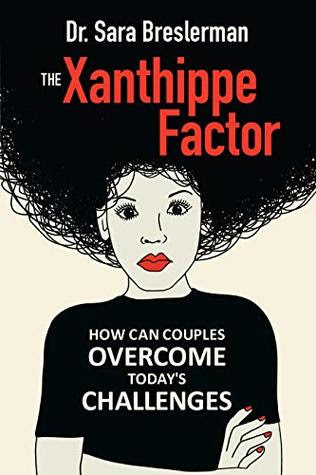 Xanthippe was the second wife of Socrates, one of the founders of western philosophy.
Israeli author Dr. Sara Breslerman (Ph.D., University of Haifa) is a family and couples therapist and researcher and has won recognition for her extensive research on the problematic relationships between mothers-in-law and daughters-in-law. In The Xanthippe Factor Dr. Breslerman examines a common phenomenon whereby women change after marriage and especially after the birth of children. In her own unique, personal voice, she gives readers the opportunity to observe themselves in the more challenging stages of marriage and to find ways to navigate through the pitfalls of matrimony. Dr. Breslerman won recognition for her extensive research on the problematic relationships between mothers-in-law and daughters-in-law.
For starters the Xanthippe Syndrome is a phenomenon in which soft, loving women become nagging, critical, dominating women in their relationship as well as within their family.
In the Introduction Dr Eli Katz states 'Much has changed during the last forty years in which I have studied the topic of parenthood. The "new father" was born, the mother gained more power than ever before, and yet the institution of marriage is only being more undermined, leaving us with angry women and depressed men. Why is this happening? Are there any solutions? This important book, The Xanthippe Factor, makes us confront the essential questions that we often try to escape. We try to escape through stupid jokes about the domineering woman or the helpless man standing before her. This book makes men look in the mirror and ask themselves: "What am I doing wrong? How did it happen that my wife turned into a different woman? Could I have prevented the change in the woman that I fell in love with? And if a change has already happened – how can I cope with it?" "What's happening here?" needs to also be asked by women. "Why is our relationship no longer working like it once did? Why am I so angry and critical? How did we go from being a loving couple to two people who are staying together mainly because of the children?" It's not easy to look inwards, sometimes it even arouses resistance and is discouraging – but The Xanthippe Factor stays optimistic throughout its entirety because the author believes in and values relationships, mainly with the hope that if husbands and wives modify their standpoint and listen to one another, they will once again find their way back to the same love and companionship that made them choose one another in the first place.'
What Sara shares in this illuminating book is a warm counseling session about the changes that occur in long term relationships. She offers her thoughts by sharing her own life experiences and then examines what happens to love in the various stages of the relationship, why so many men and women are unhappy with their marriages, and what can be done to make long lasting and loving relations that fit the world in which we live. She confronts us with basic questions about the relationships between men and women in marriage: i.e., role division, parenting, sex, and disagreements - and provides insights, solutions, and tools about how couples can overcome marriage pitfalls and improve their relationships.
A manual for everyone who wants a solid lasting relationship. Highly recommended
Editor's note: This review has been published with the permission of Grady Harp. Like what you read? Subscribe to the SFRB's free daily email notice so you can be up-to-date on our latest articles. Scroll up this page to the sign-up field on your right.