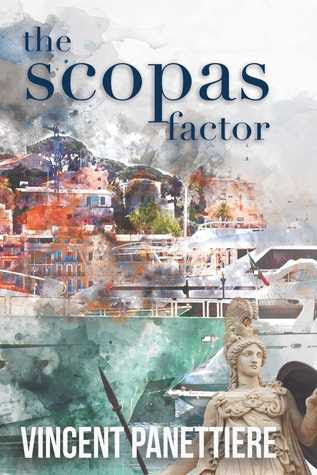 "It says you solved a murder and broke up a Russian mob. There you are, in black and white."
Los Angeles author Vincent Panettiere began his colorful career as a sports writer for a wire service and Boston daily, altered his path by accepting several executive positions at CBS and Fox Network, wrote several film scripts yet to be produced and served as a literary agent for television and film writers and directors, and as a sports agent for major league and professional baseball players. He is the author of THE INTERNET FINANCING SOLUTION, and while that book is an expose of Internet scams, it is also the experience of the author and his personal unfortunate experiences with the Internet global scams. With the success of that first outing with writing he followed with a well-sculpted mystery thriller A WOMAN TO BLAME, and continued his journey to literary importance with THESE THY GIFTS, only to blossom again with THE SCOPAS FACTOR.
Vincent's facility with language allows him to say so much in so few poignant words. And example of this is his opening paragraphs – 'No one knew the name or age of the person they called the Mud Woman. She seemed to have been a part of the Hmong exodus from Northern Laos since the first day of their journey. None could be certain. With her dun-colored bundle she was one of many solitary, nameless people on the trek. All were fleeing the Laotian army. Sometimes the bundle was balanced on her head or slung over her shoulder. If anyone paid her any attention, that was the only change they saw from the start of their hurried flight to their final settlement in Ban Vinai, located some 350 miles north of Bangkok. She was just another piece in a coagulated mass of humanity. The woman did not speak, and no one could engage her downcast eyes long enough to pose an inquiry. However, the depth of her soul-weary sadness did not require explanation. There were cots and washrooms to provide shelter and warmth in a longhouse awaiting the new residents at Ban Vinai. The woman preferred a patch of dirt near the outer perimeter of the camp and settled in under the tarp rolled up in her bundle. Not until the others saw her remove some branches that had been whittled into tent pegs did she appear to be an enterprising woman, prepared for hard times. She trundled her way to the chow line twice a day—in the morning for a breakfast bowl of porridge and later for a dinner of noodles and vegetables courtesy of some United Nations-sponsored refugee relief committee. Relieved of the burden she'd carried for hundreds of miles, the woman exposed her time-worn visage, allowing all to see the impact of the pain she bore on her diminutive frame. Still, there was a vestige of energy in her eyes that belied her physical being. In good weather, her days were spent outside her lean-to refuge, drawing in the dirt with a wooden stick. A joyous spirit emerged as she etched in the soil, even if her life contained more misery than pleasure. She was happy with her work, as though achieving a long-suppressed mission. When the runoff after a rain erased her drawing, she would recreate the sketch in the mud. The pleasure was less apparent in those times. Worry creased her broad forehead each time she feared the image would be lost. Then she hurriedly worked the stick in the ground to hold fast the picture in her mind. No one realized she drew to remember, trying to keep the images alive so that one day others would know. Occasionally, other camp dwellers would pass to observe her concentrated efforts at replicating the original dirt drawing. From that vantage she was referenced as the Mud Woman.'
The very brief summary offered before reading is adequate to place us in the realm of the gist of the tale. ` A Hmong "story cloth," a Revolutionary War battle flag, forged Picassos and a Russian drug dealer—finding the link between these disparate elements is the challenge Mike Hegan, a veteran police detective being forced to retire on medical disability (who was introduced in A WOMAN TO BLAME) faces in The Scopas Factor. After his last investigation ends tragically, Detective Mike Hegan returns to Chicago from St. Kitts, hoping to put everything behind him. But his girlfriend, Diana, has other plans, and although he has no interest in the job opportunity she presents him—in a small northern California town, no less—he wants to please her. Upon his arrival in Weedley, he's caught up in a kidnapping and two murders. A visit to Diana's family in San Francisco only serves to deepen the mystery, as her father might be the link to a gang of antiquities thieves that might have something to do with the crimes in Weedley. And when Diana's father disappears, Hegan takes off for Antibes in southern France, where he discovers that the mystery has only just begun.'
Vincent Panettieri is molding a remarkably solid stance as a writer of substance. His insights, sensitivity to issues - contemporary and enduring ones, and his eloquent prose place him near the top of today's authors' peak. Highly recommended.
Editor's note: This review has been published with the permission of Grady Harp. Like what you read? Subscribe to the SFRB's free daily email notice so you can be up-to-date on our latest articles. Scroll up this page to the sign-up field on your right.