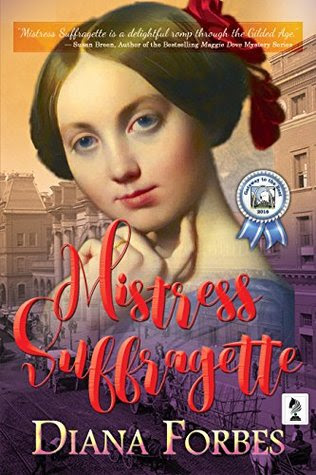 Manhattan author Diana Forbes is a literary archeologist, a ninth-generation American with ancestors on both sides of the Civil War. She writes historical fiction and is passionate about old New York, ancestry, untold stories, vintage clothing, antique furniture, and vows to master the quadrille in her lifetime! MISTRESS SUFFRAGETTE is her debut novel, but prior to publication the novel won first place in the Missouri Romance Writers of America (RWA) "Gateway to the Best" contest in Women's Fiction and was a Wisconsin Romance Writers of America (RWA) "Fab Five" finalist in Women's Fiction.
Approaching a first novel from a fresh author is enhanced when the author offers her own notes on the book: 'The Panic of 1893 was the greatest depression in the United States before the Great Depression. Overnight, banks shuttered, companies failed, and the government floundered. People lost their livelihoods. Family fortunes, meticulously amassed over generations, vanished faster than wisps of smoke. 1893 was also a watershed year for this country due to the confluence of the Chicago Exposition and a surge of new interest in the American Women's Suffrage Movement. In 1893, Colorado adopted woman's suffrage. With the Progressive Movement now in full bloom, women from all classes and backgrounds started to enter public life. Certain real-life events were moved back in time in my novel so that the narrative could all take place during this pivotal year. For example, the women's suffrage parade in New York City actually occurred later while the newspaper-burning incident never happened' etc.' She brings us into her circle of knowledge and offers a summary of her work that will encourage a large audience.
Synopsis: 'A young woman without prospects at a ball in Gilded Age Newport, Rhode Island is a target for a certain kind of "suitor." At the Memorial Day Ball during the Panic of 1893, impoverished but feisty Penelope Stanton draws the unwanted advances of a villainous millionaire banker who preys on distressed women—the incorrigible Edgar Daggers. Over a series of encounters, he promises Penelope the financial security she craves, but at what cost? Skilled in the art of flirtation, Edgar is not without his charms, and Penelope is attracted to him against her better judgment. Initially, as Penelope grows into her own in the burgeoning early Women's Suffrage Movement, Edgar exerts pressure, promising to use his power and access to help her advance. But can he be trusted, or are his words part of an elaborate mind game played between him and his wife? During a glittering age where a woman's reputation is her most valuable possession, Penelope must decide whether to compromise her principles for love, lust, and the allure of an easier life.'
But the true favor of her blend of history and fiction is evident from page one – 'Tuesday, May 30, 1893, Newport, Rhode Island Imagine being sent to a party with a gun pointed at your head. You might look bewitching; you might wear a proper pale blue gown, with its gathered skirt and off-the-shoulder neckline. You might sport the perfect pair of ivory silk ballroom slippers. Your fiery hair might be dressed in coils and feminine curls. But inside, underneath the pleats and the padding, knowing about your father's possible ruin, I bet you'd feel frightened. You might believe this to be your last party. You might sense your short life flash before your eyes— the leisurely days of riding horses till your thighs ached, the long nights of preparing French verb conjugations till your fingers cramped up, or helping the Ladies Auxiliary return stray cats to their owners. Try as you might to shut your eyes to the hard facts, to the sudden unmooring of your destiny, you'd know that when friends asked how you were faring, you wouldn't say much, hoping you might get by with some idle pleasantries or banalities about the weather. So you can imagine how it was for me as our carriage crunched up the driveway to the first party of the season: the Memorial Day Ball.'
Writing of this quality is rare and it serves as a very welcome debut for Diana Forbes who is writing about subjects that could not be more current! Grady Harp
Editor's note: This review has been published with the permission of Grady Harp. Like what you read? Subscribe to the SFRB's free daily email notice so you can be up-to-date on our latest articles. Scroll up this page to the sign-up field on your right.