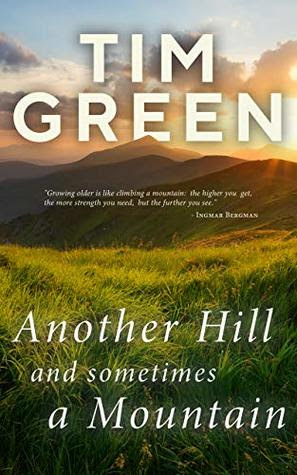 'Ray is my happy ending, every day.'
Very popular and successful 'Trainer Tim' children's books author Tim Green, with the fine assist from his editor and exceptional ghostwriter Marlayna Glynn, has published a memoir that proves to be one of the more inspiring autobiographies in print!
Letting Tim speak for himself is a fine opening – 'Another hill and sometimes the mountain Another road with rocks to hurt my feet But He walks along beside me I can make it, there will be no retreat. — George D. McGraw' When I was very young, and living in the midst of chaos and uncertainty, I learned this country ballad at church. The simple words gave my little worried mind a great sense of hope; the gentle chords soothed my heart. The words to this song have rung true my entire life, as my road had a lot of rocks to hurt my feet. Yet when I think of the many people who have been a part of my journey and feel a great sense of gratitude for their participation. In writing this book, I continue to not only look for personal healing but to help others on their journeys. Each of our individual stories have meaning and are worth telling; we have a choice in how we accept our circumstances and use those experiences. It could be said that my childhood was negative, dark, and lonely. That's certainly one way to look at it. While it's true that many of my childhood waking moments were peppered with my desire to stay safe, I held on to the belief that something better was going to happen; something fantastic was going to come my way. Even though I lived a fear-based life and was required to abide by established rules, I created a safe place in my mind through physical activity. I have now come to realize how amazing those experiences were, and how they've made me the person I am today. This is my story.'
What follows in this moving and entertaining book is a life of a child in foster care. The synopsis relates the facts well – 'The powerful testimony of one child's courage in not only surviving but thriving in the foster care system. How? Because Tim was determined to rise above his humble beginnings ... despite the heart-wrenching and dark secrets of the circumstances surrounding his birth family. The statistics that often predict a foster child's future success rarely fall in their favor -- and this was particularly true in the 1960s and 1970s when abuse of the most vulnerable children was rampant. Could Tim develop the resilience and tools to survive ill-equipped and ambivalent parents, poverty, and an entire childhood spent in foster care? The answer is a resounding yes. This true story explores the many people and circumstances that made up Tim's life as he made his way through a confusing maze of experiences. He drew upon his incredible inner reserves to beat the status quo and become a renowned name in the fitness world. Author Tim Green delivers his nearly unbelievable autobiography - a powerful story that offers hope to any child struggling to fit into a world despite not having the support of a birth family. Tim's story will remain with you for life.'
This is a book that should be read while alone, to your friends, to a congregation of survivors of abuse – in other words, it should be read by everyone. Sensitive and honest, gain a new perspective on being alive by infusing Tim's words into your mind. Highly recommended.
Editor's note: This review has been published with the permission of Grady Harp. Like what you read? Subscribe to the SFRB's free daily email notice so you can be up-to-date on our latest articles. Scroll up this page to the sign-up field on your right.