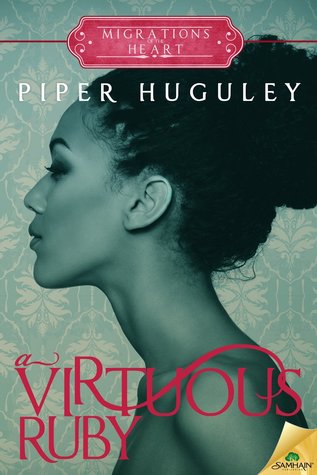 Ruby Bledsoe is known through out Winslow, Georgia as having a fiery spirit and being an activist for justice, but to some she is no more than a trouble maker. Ruby has been in hiding after the shame of bearing an illegitimate child due to horrific circumstances. When handsome Dr. Adam Morson arrives in town will he becomes the town's focus?
A Virtuous Ruby is the first installment in a story loaded with promise of an emotional journey and, hopefully romance for this bold heroine, Ruby. This series sets an authentic tone for this young woman's resiliency, courage and hope for herself and for others. I enjoy reading historical romance novels, but there just seemed to be something missing in this novel. The story didn't grab me. I finished reading the book, but I wasn't excited about some of the plot. Trying to keep from stating any spoilers I didn't like how Reverend Dodge treated Ruby. The characters in the book didn't come to life. An interesting story was told, but the characters seemed to lack emotion, especially Rudy during her ordeal. I would think she would be mad at David for what he did and for the situation she had to deal with, but it seems Ruby was more interested in fighting for rights for those at the local mill. For the story to be dated back in 1915 I would think Ruby being raped and being left with a child, her having a child and being unmarried wouldn't have been such a shame to the locals or to the church. If anything I would think during this time the church would have been more compassionate to Ruby and her child.
Despite being a bit predictable, this is an intriguing story that is well written and easy to read. I enjoyed Ruby's spunk and wiliness to fight for rights against injustice. At her young age she showed a lot of determination and she didn't let the more powerful beings of the town deter her personal mission. The commitment to God that Ruby displayed even though she was cast out by Reverend Dodge was commendable. Also, the relationship between Ruby and Adam wasn't pictured as one of lustful attraction where they were rushing into an intimate stage of a relationship, but they seem to make a pleasant couple with the things that they have in common.
Though this wasn't classified as a book that stands out for me, I still found the story enjoyable because it focused on true to life circumstances and even though Ruby is just 18 her calling in life proved to be to always help others.
Editor's note:
This article was originally published at Long and Short Reviews. It has been republished with permission. Like what you read? Subscribe to the
SFRB's free daily email notice so you can be up-to-date on our latest articles. Scroll up this page to the sign-up field on your right.