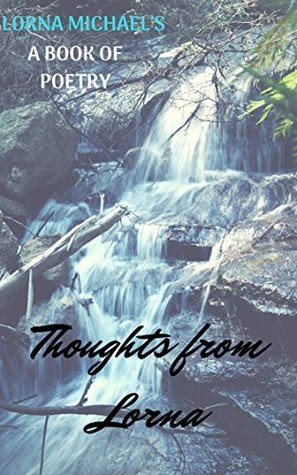 'There is darkness No light to guide your way You feel alone Abandoned Why should you remain?'
Australian poet Lorna Michael's (yes, the apostrophe is part of her name) lives in the Blue Mountains in NSW Australia. Though she has been writing in journals for years, this book represents her debut in publishing.
Lorna's thoughts and poetically expressed concepts obviously come from an artists of sensitivity and caring for her fellowman. The moods and subjects change as we read her book, but the impact of her words remains strong throughout.
Some examples follow:
In our arms
The heavens allowed for your arrival
To come into our lives
The joy you bring to brighten our smiles
To see you for the first time
Will be like no other for us
You surprised us with your presence
We did not know you were there, to begin with
To find out of you was a shock
You had remained hidden for so long
Till one day I felt you near
I could not believe it was possible
Now we realise so much
We have our concerns
But know your arrival
It will be worth it
To hold you in our arms for the first time
Will be like no other
The confusion we have felt in the preceding months
Before your arrival
None of it will matter
When you are in our arms
As you will be our bundle of joy
The night skies
As I look into the night sky
I wonder can we really be alone
Can we be the only ones in this universe of ours
Are we alone in this vast place we call a galaxy
In this small planet of ours
Can we be the only ones
We are but a small spec of dust in the universe
So is it possible that we
Are not alone here
On Earth, in this universe
Is it right to think we are alone?
There must be more to this existence
Than this small planet we call home
If we were to only believe
That we are the only ones
Then are we not closing our minds
To the endless possibilities
That are out there for us
The new places to explore
The new experiences there are to be had
We would be closing our minds
To enlightenment and growth
Both as individuals and on a global scale
So, can we really believe
That we are alone on this small planet of ours
Lorna's thoughts, well scribed, bring out emotional responses form the reader – and that is her reason for sharing. A solid collection, this.
Editor's note: This review has been published with the permission of Grady Harp. Like what you read? Subscribe to the SFRB's free daily email notice so you can be up-to-date on our latest articles. Scroll up this page to the sign-up field on your right.