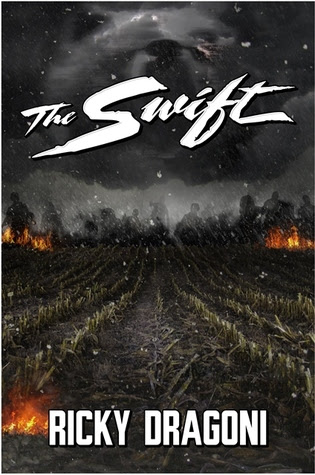 'The Swift were obviously finding several of us.'
Puerto Rican born Ricky Dragoni moved to Iowa and writes form there at present. He has been writing poetry and short stories since his youthful days and has published four novels to date – PRIME INFINITY, RIPPLES, THE SWIFT, and THE ANGEL OF A MADMAN. As he states, ''My books are born out of the nightmares of my mind and are then melded with my life experiences. I would describe my books as reality sprinkled with a good magical dose of faerie dust, written Surrealism in other words.'
Ricky's writing style is infectious, involving, creative and wholly absorbing. He opens his strange story as follows: 'Hunger had ceased to be a sensation and had become our existence. It was another long and disappointing walk back to the shelter without food and only broken spirits. This was the 4th town we had looked at and still, we were having no luck. As daybreak quickly approached, the anxiety within me grew. Soon the tables would be turned and we would no longer be the hunter, and instead be the prey. We reached the town and my shelter was the furthest one down. I could feel the light of day creeping on my back and it made me shuffle forward a little faster. I was tired, no, I was drained. It had been days since I had a proper meal and the hunt exhausted me physically, mentally and emotionally. The days had become a lottery to see who would remain alive, as our prey turned the table on us, during the blinding light of day. The door to the house was finally before me, and I didn't hesitate to rush in and lock it behind me. As I set the last deadbolt, I turned to see Levi huddled on the couch. He looked even worse than he had this morning. He was asleep or so I hoped. I slowly walked towards him and searched for signs of life. His breathing was so shallow I was not sure if I was seeing him breathe or not. I finally broke down and placed my hand on his forehead. He felt fine and soon opened his sunken eyes to greet me. He tried to sit up, but I insisted he remained lying down. Once more, I didn't have any food for him, and almost wished I hadn't woken him. It is hard to be hungry while you are asleep. Even then, lately, I have been dreaming of banquets and all you can eat buffets. I could only imagine what nightmares and dreams this poor kid must be enduring. I left him lying down and went to get him some water from the kitchen. As I walked, I remembered how different the meaning of getting him water was just a few years ago. Levi had been one of my all-star players, in every sport I coached. He was an energetic kid and full of life. Once he entered high school, my time of coaching ended, but I continued to root for him as a fan. My kids were grown and coaching youth not only kept me fulfilled but also sane. I can't count how many times I stressed to him and countless kids to hydrate and the importance of proper nutrition. Levi had been a star at every sport he tried.'
It is just this sort of credible character building that makes Ricky's terrifying apocalyptic novels credible. He offers a brief outline of this plot – 'Left behind after the military evacuation and separated from their families, the people of Storm Lake must decide what to do. Food has spoiled; technology stopped working and everyday life turned upside down. There are no answers, only questions and tough decisions to be made. As they search for help in the cornfields of rural Iowa, a deadly game of hunter and prey develops between them and the Swift. The Swift are mysterious and ruthless creatures who hunt to kill. They unexplainably appear after the event and mercilessly dispatch of anyone who they encounter; while Coach Mike, Levi, his pupil, and those left behind must hunt the Swift for sustenance and survival. Go along this dark and twisted journey with Coach Mike and Levi as they do the unimaginable to survive in this apocalyptic new world, all in hopes of one day reuniting with their families. ' The ending of this tale will astound you!
There is so much talent in the creative mind of Ricky Dragoni that reading a couple of his books creates a need to read more. Very fine story on every level.
Editor's note: This review has been published with the permission of Grady Harp. Like what you read? Subscribe to the SFRB's free daily email notice so you can be up-to-date on our latest articles. Scroll up this page to the sign-up field on your right.