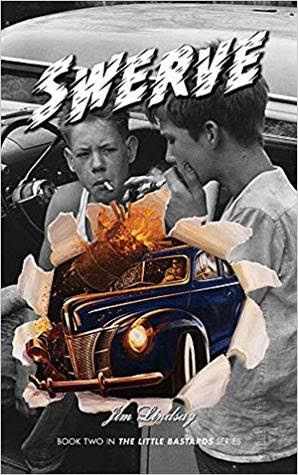 My car hadn't deserved what I'd done to it again.'
Oregon author Jim Lindsay is from the farm arena – born, raised, schooled 'on the land' with a break following high school with the Navy Reserve followed by a year and a half of college - then back to the farm where he still lives and works. Much of the essence of the core of THE LITTLE BASTARDS, his debut novel, and now LITTLE BASTARDS 2: SWERVE comes from his early years – and even more from his hobbies of driving hot rods and roadsters in drag racing and land speed racing. All of this Jim brings to his writing, creating not only a credible story but also a sense of keen retrospection.
The challenge of defining that physical, hormonal, experiential cluster of events that coalesce into becoming the coming of age for boys has always been a siren to sensitive authors. Some have succeeded in placing the reader into the time frame during which this change occurs: JD Salinger's "Catcher in the Rye", Harper Lee's "To Kill a Mockingbird", Stephen Chbosky's "The Perks of Being a Wallflower", E.B. White's "Charlotte's Web", etc. Jim Lindsay takes a step in that direction with these two volumes of THE LITTLE BASTARDS and goes further into the aftermath of once the age is reached.
This particular volume not only sustains the flavor of the initial book, but it adds the growth of friendship, loss, tragedy, love and of course the stigmata of prejudice. The division between those who have and the have-nots is so well painted in the love Sonny has for Marilyn, the daughter of the town banker. Recall for a moment the description of self evaluation - 'It was 1952. Even though we lived on the downtrodden side, we were twelve and didn't know any better, so every day was a new opportunity. With expenses like candy, pop, and an occasional smoke, we were always looking for ways to make a buck. Even more so now because it was midwinter and our usual sources of income, picking crops and turning in lost golf balls, had dried up. There was nothing to pick but empty beer bottles. We were nearly penniless and vulnerable. It was bad for a man to have nothing to jingle in his pocket' – and push that perception of self into the latter part of the time frame and we are privy to the scars that prejudice carves. Or as Sonny phrases it, 'Joe, Gary, Billy, and I were the core of our club, which went back to our early grade-school years. We had been known as the Little Bastards, the toughs from the east side. Before I could say boo, they shed their bomber jackets and took places around the kitchen table, which was familiar to them from dinners and sleepovers of the past.'
There is a car accident – 'Marilyn Swanson – Sonny saved, bicycled her home after the crash. Her father was a wealthy banker, told Sonny 'his kind' would never get near his daughter Marilyn. And the gradual aftermath – 'It was Marylyn's dad. I remembered his voice from the bank. I'd been putting my money in his bank since I was twelve. I wondered how he knew where to find me. "Yes, sir, I am." He came around his car, his movements steady and forthright as if he was used to being in control and the owner of the biggest bank in town. "Well," he said, pounding the newspaper on the fender like he was driving home a point, "first of all, I want to thank you for saving my daughter's life." I liked hearing that, especially from Marylyn Swanson's father, to me, The King of Willamette. "I just came from the police station, and after talking with the two officers mentioned in this article, I'm damn sure if it hadn't been for your quick thinking and guts, my daughter would be down at the morgue right now. I remembered your name as a client at my back, and commend you on your savings record. It is impressive for a person of your age." And another encounter, 'He looked at me through the rain, which was pleating his face. His eyes were bloodshot and water was dripping off his nose. "Sonny, I'm here to thank you again. The last time you saved my daughter, and now I guess you've saved my tired old ass." He stopped talking and screwed his face up like he was searching for the right words. "Sonny, I forgot where I came from. I was raised in a place that makes yours look like a king's estate." He waved the paper towards our house. "I come up hard and I didn't want to look back and I didn't want my family to know. That's why I'm who I've been. But it's all changed for me now."
Change is a major theme in this splendid novel, and the manner in which Jim Lindsay reveals it is mesmerizing. Friends, family, challenges, errors, habits, accidents, loss – all of these elements mutate us and we become people. Jim Lindsay has captured that as well as any other writer. His is a remarkable achievement.
Editor's note: This review has been published with the permission of Grady Harp. Like what you read? Subscribe to the SFRB's free daily email notice so you can be up-to-date on our latest articles. Scroll up this page to the sign-up field on your right.