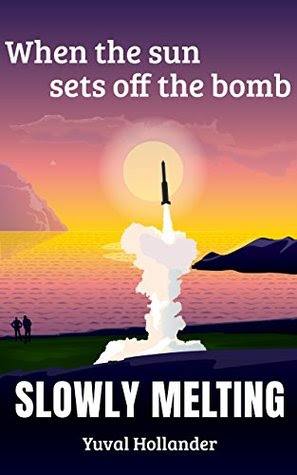 'A shallow trajectory, then a massive explosion consistent with a satellite coming down, not a missile strike.'
Israeli author/film director/producer Yuval Hollander served as a deputy commander of patrol ships in the Israeli navy, and has been the head of digital media at some of the largest international advertising agencies in Israel. Though this is only his second book to be published, in this new book SLOWLY MELTING he proves to be a man who is acutely aware of environmental issues, the ever-present threat of nuclear war, and the manner in which the citizenry of the world have come to view the possibilities of a future controlled by both IT and corrupt governments. As he states, 'This is a story, based on real life scenarios, that shows in the most dramatic way what can happen when the human desire to achieve military control at any price meets nature at its most extreme moments. When the president of the United States, the army, and NASA are in a war of minds against the North Koreans and, at the same time, the sun prepares everyone for an unexpected surprise - this is a time when only determination, cool, and creative thought can save the day.'
For an apocalyptic-type subject in a technothriller, Yuval knows how to grasp his reader with the Prologue – '"Get real!" Dr. Megan Ngurrba exclaimed as she glanced at the tweet on @seismology#Pyungge-ri_
Nuclear_Mountain. "That mountain in North Korea moved again." "Uh-huh." Megan's boss, Burt Arnold, Director of Solar Anomalies, NASA, grunted his reply. He was not interested in the disintegration of a mountain—even a six-thousand-foot-high mountain in a largely geologically stable region. Even when said mountain was, in fact, the site of the hydrogen bomb tests that, according to the seismology, had three weeks ago, at last, achieved success. "Not a test this time," Megan observed. "Just the rock slipping under all that stress. Morons!" Arnold's eyes flicked from the array of screens he was monitoring. He was a six-foot-five African-American with the look of a Harvard Principal seen through Hollywood eyes: smooth skin just turning to lines of gravitas in his face, hair streaked with metallic grey, glasses, muscled. He was on his feet at the minute, holding a tablet and a light pen, taking readings from five different satellite experiments directed at the Sun. One consisted of a real-time video feed that overlaid visual, heat and electromagnetic representations. On it, the Sun's surface appeared to writhe like a ball of live snakes. "It's the only card they got," he said, distractedly. "Obviously!" Megan responded. "What I mean is—if the Korean military had any sense, they wouldn't keep liquefying that mountain. It'll crush them." "No doubt their scientists have told them so," Arnold said, decisive—fingers pattering on his screen. "And, as ever, political imperatives trump anything so matter-of-fact as the breaking point of metamorphic rock."
The tone of the entire book carries this tense thunder ad the plot of the story is as follows: 'The combined forces of nature and science make for devastating global impact. On a California air force base, concealed long-range missiles are poised for action. Helicopters circle overhead and heavy radar equipment is put into place. The most momentous, sensitive, and dangerous military experiment in the history of the world is about to begin. Deep in the underground command bunker a final briefing takes place with the US president via video stream. On a large screen, a live feed from NASA's solar radiation monitoring system displays the progress of a dreaded solar storm. Will a horrendous solar storm carry the threat of nuclear destruction? When the storm hits its peak, the window for launching a nuclear-armed Minuteman Missile will open. People around the world begin to realize that their worst fears about the portended storm were coming true, as satellites, electric grids, and GPS devices go haywire. Meanwhile, leaders of the United States and North Korea have their fingers poised over their so-called "red buttons," ready to ignite nuclear war at any time. But will the sun set off the bomb?
Yuval Hollander's cinematic experience is evident in the manner he guides us through this too-close-to-the-truth story. It is terrifying and mesmerizing and is one very powerful novel.
Editor's note: This review has been published with the permission of Grady Harp. Like what you read? Subscribe to the SFRB's free daily email notice so you can be up-to-date on our latest articles. Scroll up this page to the sign-up field on your right.