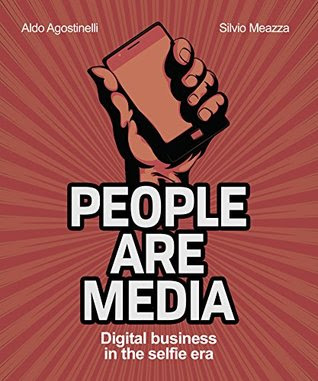 'It's important that we try and put technology at the service of mankind, not the other way around.'
Italian authors Aldo Agostinelli, the digital officer of Sky Italia and vice president of IAB Italia, and Silvio Meazza, co-founder of M&C Saatchi are not only astute IT experts – they are also fine contemporary philosophers who deftly analyze how the digital evolution affects our everyday personal and professional lives. From Blockchain to social media to online shopping, Agostinelli and Meazza reveal the ways that digital technology has transformed us and how our future has dramatically changed, and offer an informative and fascinating look into the ways digital technologies are enhancing our lifestyles, how businesses can capitalize on these innovations, and why we—people—are the media itself.
In their Introduction the authors jovially inform us exactly how married we are to IT. 'There are people, businesses, entities and programs that know where we are, what we buy, what we think and what we like. They always know, even now, the very moment we're writing this and you're reading it. Their knowledge about us evolves as they analyze our data. They're inaccessible, invincible and very, very accurate. Digital technology is now an incontrovertible praxis for both consumers and companies. The digital era consumer has created a parallel universe based on noble and less noble devices and on our ability to instantly communicate with the whole planet, to watch any content and carry a full library inside our smartphones, to check whether our home lights are on or out, to pick up and read our medical results from work or home. On the other hand, companies are creating systems and algorithms to monitor and control their own performances and also consumers' lives. These systems touch and overlap, because all involved parties need each other: companies sell and most of all acquire a growing amount of information so they can follow, trace and understand their customers; consumers get to read a book for free or compare a product price across hundreds of different providers and eventually find the best price, the best delivery option and, via user reviews, even a product's quality. We'll analyze the digital era from its beginnings and try to understand how this evolution we cannot yet control is affecting our world; it destroys jobs, it takes the barriers of space and time down. At the dawn of civilization we were quite quick to learn how to use fire to cook food, but the industrial revolution took a million years to happen. Will it be the same for digital technology?'
Instead of mirroring our behavior with IT on American street, the authors grace their examination of the influences of all the technologies in Venice, Italy – that alone makes the book sensuous and a magnet for our attention. They discuss the omnipresent selfies, addiction to Facebook, communication via text on celllphones (when we are not walking aimlessly tied to an oral conversation with those little devices), communicating with 'likes' on the many internet chatting platforms, shopping and buying with a click on the computer or cellphone – in other words, the near complete absence of privacy we have offered the internet. Data, the depersonalization of doctors who are more committed to machines (robotics, EMR, etc) than to patients, money not as coins or bills in the pocket but as 'ideas' in the air – all of this is happening, but the authors show us how big data could indeed make our modus operandi easier and better!
The closing remarks attest to the quality of this fine book –' Our browser is where we can find ourselves. Our cache memory is the flight recorder of our digital lives. It stores the pictures of the holidays we wish we had made, the car fittings we dream we could afford and the names of the people we have looked up on Facebook. We've learned that in the best case scenario digital technology has irreversibly changed our lives and a set of behaviors that seemed deeply rooted. We can now have our custom pizza delivered at our address while we're still on the train. We can have the best products, always, at the best price. Or at least we can believe it is so. We can deceive ourselves and believe that, when people look at the best version of ourselves, the one we carefully choose to showcase, they'll envy or want us. We can try and believe that our opinions on Facebook will remain forever, carved in digital stone. Therefore we post an epitaph every day, or a precious aphorism. All of this will come to an end, obviously. That's when we'll stop feeling guilty if we get bored or disappoint ourselves, or when we feel mediocre for a minute. That's when we'll finally be able to start using technology to improve the world, and ourselves.'
Required reading for everyone – not only as an overview of IT and our place in it, but also a ray of hope for those of s who feel as though we are becoming pixilated into unidentifiable wholly public atomic particles! Highly recommended.
Editor's note: This review has been published with the permission of Grady Harp. Like what you read? Subscribe to the SFRB's free daily email notice so you can be up-to-date on our latest articles. Scroll up this page to the sign-up field on your right.