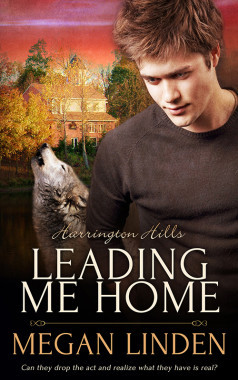 When a little lie turns into a big reality it can be overwhelming in more ways than one.
I love a good "fake date" story. I know going in that there's going to be uncomfortable moments, funny situations, expected PDA and then that dawning realization on one or both parts. This is a fun little twist since it's a shifter story. Their sense of smell is so keen that deception isn't easy. The fun part of this story is that it's only deception from one of the men and then only because he's a little slow. But sweet, so he's forgiven.
I love little intimate gestures in romance books. Touching. Snuggling. Kissing, of course. But with wolves there's scent marking. Oh man! When Taylor and Kevin exchange shirts so they can mingle their smells and then Taylor focuses on Kevin's smell to calm his nerves, I was totally hooked! I think what made it all the more special is that he didn't realize at the time the significance of that comforting/home feeling he felt around Kevin. It was a true light bulb moment for sure when he did.
Really only one minor-ish issue. When people speak to each other they don't generally say stuff like "I will" they say "I'll". I mentally kept changing some words, while in dialogue, to the contractions more commonly used. Not a story killer. I just tend to notice the stutter in tempo. Also, there's this whole backstory about Taylor's parents. The death of his father and grandparents. How his mothers got together. This is the first in the series so, depending on who stars in the next book (s), maybe we'll find out more about the Harrington Pack. Then the Beta comes and talks to Kevin and some of it started to fall in to place. I still had questions but, she shed some light on a few question marks.
This is a quick read with some fun, lighthearted moments but, there's some intensity here as well. Kevin's lone wolf had to work through his issues and Taylor had to recognize what his wolf knew all along. Home comes in many forms. I enjoyed this short and look forward to seeing who comes next in the Harrington Hills series.




Editor's note:
This article was originally published at Long and Short Reviews. It has been republished with permission. Like what you read? Subscribe to the
SFRB's free daily email notice so you can be up-to-date on our latest articles. Scroll up this page to the sign-up field on your right.