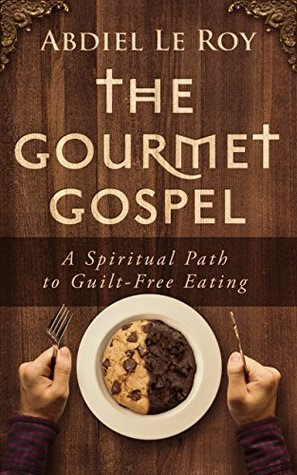 The righteous eat to their hearts' content. Proverbs 13: 25
The handsome actor/former journalist/religion correspondent/author Abdiel LeRoy is a British-American whose life is largely inspired by the Bible, Shakespeare, and the great epic poem, 'Paradise Lost'. As a poet Abdiel embraces giant tasks – the lives of Elijah, Obama, Bush, and Trump in his VERSES VERSUS EMPIRE series, as well as fascinating historical novels and culinary guides. He also has worked as a broadcaster, financial analyst, and market commentator, while his passions also include Argentine Tango, Yoga, and competitive swimming. His voice both as a narrator for dramatic readings and on stage is being recognized as a brave new presence in the politics of the globe.
Abdiel's new THE GOURMET GOSPEL defies classification: it is the best of all his books and verses and artistic and religious endeavors to date. The book draws from Abdiel's experiences and observations and enlightens all aspects of what out lives are about by relating the to Grace ('the unmerited favor of God'). From concepts and principles form the bible and thoughts and actions of great thinkers through time he shares that bliss of freedom of conscience in everything we do.
Some excerpts from the book aid in understanding Abdiel's approach – 'Speaking of actors, there can be no more divine calling. For just as Christ is the Word made flesh, the actor is the word of the playwright made flesh. Meanwhile, by losing himself in the character he plays, the actor also embodies Christ's calling to lose his life in order that he may find it. His body and voice express his source in the true vine of Christ, and as a tree produces its own variety of fruit according to its type, the actor of indivisible heart does not outlaw anything he is experiencing.'
And another – 'Artists also take on the priestly role of communicating the divine to humanity and vice versa, while identifying with humanity's predicament, becoming, again to quote these lines of Shakespeare: The very opener and intelligencer Between the grace, the sanctities of Heaven, And our dull workings. The actor exemplifies this ministry, and the clown in particular identifies with the shortcomings of the human condition. According to British actress Emma Thompson: The really good clown comes on and fails miserably. Just by coming on, a clown makes people laugh, because you are saying, 'I shouldn't be here at all. I can't do this.' It's about failing. It's wonderful because laughter is a celebration of all our failings — that recognition that we are not gods, that we are human. That's what clowns are for. That's why they are important… I've discussed the value of failure in creative work. Failure is terribly important. Perhaps that's what I'm saying: The notion that failure is a negative thing is wrong.'
And one last excerpt that relates the meaning of the clever title: 'In my own journey, I came to understand that no mouthful can ever take me across some boundary into sinful territory or "overeating", for no such boundary exists. I also realized that the portion on my plate may have very little to do with my appetite and what my body needs, which may be a lot more or a lot less. A plate is just a plate; it's not my conscience! Nor is God scrutinizing every mouthful as I had imagined. As for the instruction to ask for God's blessing on my food, that was false prophecy coming from the church member who was pursuing an agenda of manipulation. At one time, I used to view so-called "overeating" as my "Achilles' Heel", my specific area of failing, as if Jesus' victory were incomplete. Wrong! There is now no such thing as an Achilles' Heel! The old self, or the "addict" if you prefer, was put to death with the same kind of ruthless, uncompromising, and conclusive manner in which Moses destroyed the idolatrous golden calf worshipped by the Israelites while he was meeting God on Mount Sinai: I took that sinful thing of yours, the calf you had made, and burned it in the fire. Then I crushed it and ground it to powder as fine as dust and threw the dust into a stream that flowed down the mountain. When I began to eat as I wanted, and not as I believed I should, freedom came, and with it, release from self-destructive patterns. We may gratify desire for delicious food without giving heed to the legalistic messages of self-denial that condemn men and women and that inflame unhealthy desire. And we can trust in our natural inclination to select the types and quantities of food that are uniquely best for us.'
Abdiel LeRoy is one of our treasured spiritual guides – a man who has the capacity for many roles in life, but also a man who cares deeply about setting us free from the unnecessary restrictions imposed on us …as well as those that are self - imposed! Read this book and breathe freedom. Highly Recommended.
Editor's note: This review has been published with the permission of Grady Harp. Like what you read? Subscribe to the SFRB's free daily email notice so you can be up-to-date on our latest articles. Scroll up this page to the sign-up field on your right.