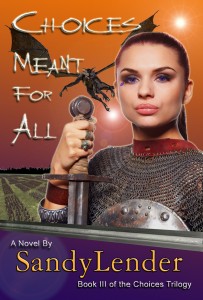 Despite being the final book in Sandy Lender's fantasy trilogy (which began with Choices Meant for Kings and Choices Meant for Gods, this book stands alone fairly well. While I'm sure that reading the books in order would greatly add to the enjoyment of the story, just because the reader would be more aware of the history and undercurrents of the relationships between the characters, I found the book's action easy to pick up and follow without being familiar with the other books.
My favorite character is Amanda Chariss Derdriu, The Protector of The Master with the master being the god of Onweald. At the beginning of this book, Chariss has been captured by Jamieson Drake, an evil sorcerer who wants her for his own, and by Juliette, a goddess/dragon-shifter, who wants to rule Onweald.
Because of the sheer volume of characters in this fantasy with many entwining relationships (as an example, Nigel Taiman, Chariss' fiancé, is also the son of Juliette who wants to destroy the Master) I was thrilled to see (and actually read first before even starting page one) a list of characters (as well as a pronunciation guide) and a map of the world, which helps a lot in keeping everyone straight! I referred back to it often, especially at the start when I wanted to make sure I knew who was who.
Ms. Lender supplies us with non-stop action from the very beginning, and happily Chariss is not a helpless captive who sits back and waits for her man to rescue her. She is always looking for a way to save herself and get back to her job of protecting the Master. She's a great, kick butt heroine that I enjoyed. And, the entire story is very exciting. The author's writing style is smooth and non-intrusive but very clear and descriptive. I never felt as if reading the book was a chore. Instead it was more like a movie running through my brain. The best kind of reading!
I fully intend on going back and reading the other two books in the trilogy, then rereading this book so I can get an overview of the entire world and see all the little things I likely missed from not knowing these characters as well as I would have liked. Well done and recommended to fantasy fans.




Editor's note:
This article was originally published at Long and Short Reviews. It has been republished with permission. Like what you read? Subscribe to the
SFRB's free daily email notice so you can be up-to-date on our latest articles. Scroll up this page to the sign-up field on your right.