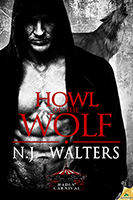 Howl of the Wolf is the final episode in N.J. Walters' intriguing short series, and it is a very fitting conclusion to this adventure. I fell in love with this world, where myth and reality blend into a dark and exciting place. The characters continue to enchant, and I will be visiting them again now that I have all four to enjoy. The threads of each story are brought together here, with solutions that were unexpected and yet so very appropriate for all concerned.
Sabrina Wolfe has always believed her spirit guide is a wolf. As a tarot card reader and artist, she has always known there are things that can't be explained by logic. But when she buys a statue of a wolf from an old, derelict carousel, she gets more than she bargained for. When the wolf comes to life, and shifts into the very sexy and handsome Arand, she believes she is dreaming, because her dreams of late have been of wolves and demons and horrible future happenings. Arand has to convince Sabrina that what is happening is real, and that the two of them are the last chance to stop Hades from waging war with his brethren and destroying the world as they know it. Arand is the last of a group of immortal warriors, cursed by their goddess into their beast forms until the one woman who can awaken them is found. Can these two escape Hades for the twenty-four hours necessary to win their freedom? Is there anyone who can come to their aid? Or will this final battle for it all signal the downfall of the world?
Sabrina Wolfe is a talented artist, and has an inner strength that guides her life and her tarot readings. She thinks that she is crazy when the carved carousel wolf in her apartment becomes a living, breathing wolf, and then shifts into a sexy naked man. But once she is convinced that everything is really happening, she draws on her inner core of strength to work side by side with Arand to bring defeat to Hades and his demons. I enjoyed watching as Sabrina learned what she would live for, and even what she was willing to die for.
Arand is the last of The Lady's warriors to live again, and he is determined to stop Hades from his plan to take over the world. He is strong, handsome and loyal, and realizes that Sabrina is his mate. He is determined to do what it takes to protect her, defeat Hades, and unite with the remaining warriors. I like Arand, with his no-nonsense attitude and his loyalty to his brethren. And also for his devotion to The Lady, and now, also, to Sabrina. I liked seeing him adapt to modern life, and I loved his joy at reuniting with Roric, Marko and Leander, his fellow warriors.
This is Hades' last shot at complete domination, and he is determined to pull out all the big guns to get this done. But there are secret agendas on both sides, and surprises for all in this final adventure. The reunion of the surviving warriors, the secret behind all of Mordecai's actions, and the surprise visit to Hades by his brother gods, all combine to make this the most action pack and exciting of the series. Of course, the scenes between Arand and Sabrina are hot and passionate, as only N.J. Walters can write them, but there are a couple of scenes that grabbed me and would not let go. Ms. Walters made me laugh, she made me cry, and she made me want to return to this world of myth and magic and romance. I highly recommend the Hades Carnival series to anyone who likes magic and myth with their romance, and to best enjoy these books, they should be read in the following order: Night of the Tiger, Mark of the Bear, Pride of the Lion and Howl of the Wolf.



Editor's note:
This article was originally published at Long and Short Reviews. It has been republished with permission. Like what you read? Subscribe to the
SFRB's free daily email notice so you can be up-to-date on our latest articles. Scroll up this page to the sign-up field on your right.