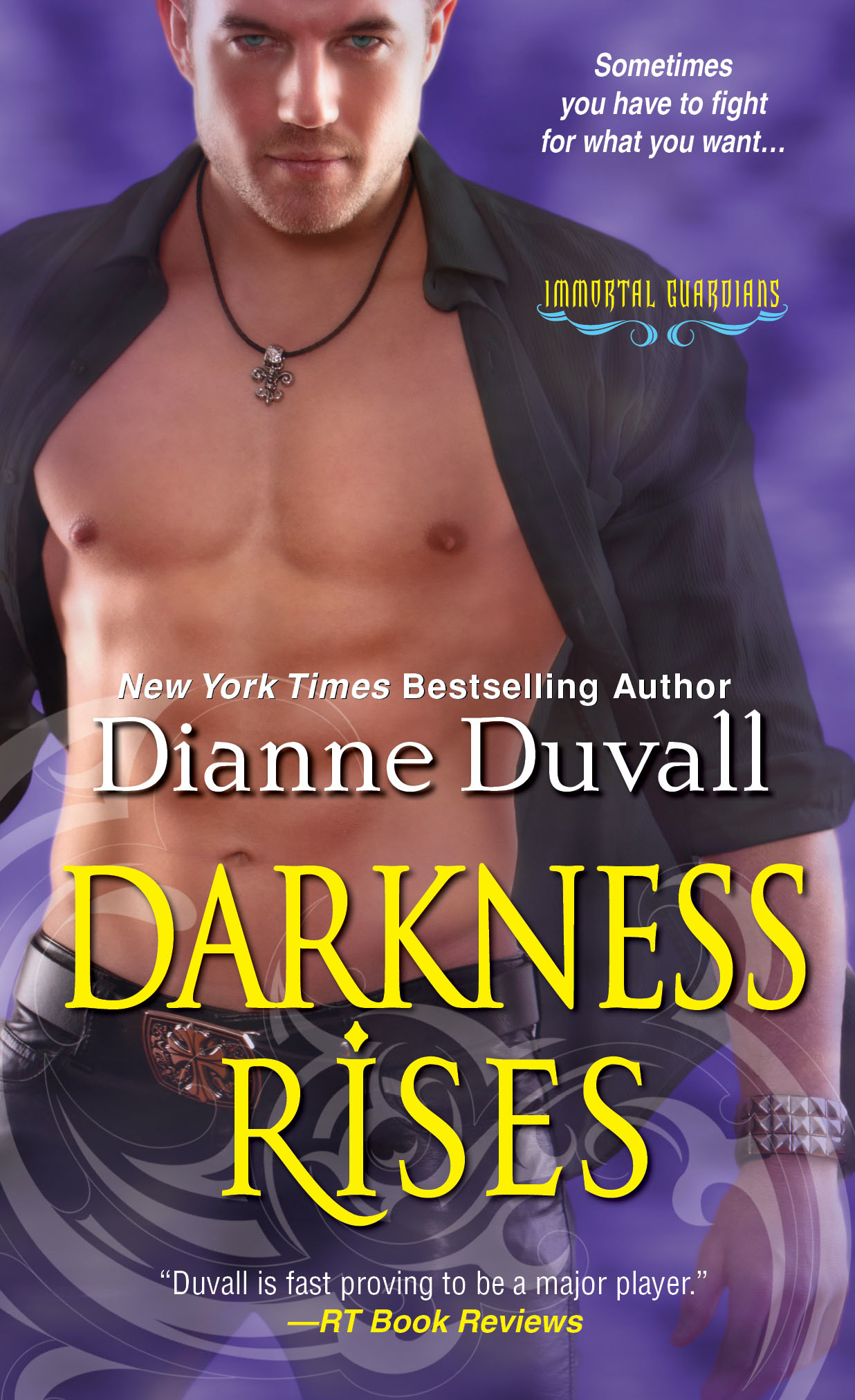 If ever there was a book to get excited about and be filled with giddy anticipation as soon as I got my hands on it, I believe Darkness Rises is that novel. I simply couldn't wait to get started because the last book was amazing and set the bar pretty high. I had great expectations for this new addition to Ms. Duvall's unique world and I am thrilled to say it has not disappointed. By the time I was almost through the first chapter, my normal everyday human world faded away to be replaced by the amazing one created by Ms. Duvall.
Every chapter seduced me deeper and deeper into the mystery of why my favorite characters were being attacked, again, and who could possibly be the mastermind this time? How were Krysta's and Étienne's romance and relationship going to survive and grow amidst all the threats and assaults and divisions of attention? Who is that hunky mysterious guy who fascinated me and ensnared my sympathies? Where is the villain hiding this time? So many questions, so many adventures and all of it found within one book. What a wild ride!
Étienne and Krysta were a fun couple to get to know. The author created a very intriguing way to introduce them to each other and I think that was one of the reasons why I was hooked early on in the book. The heroine isn't a damsel in distress; she is smart, lethal, determined and impassioned. She has unusual talents that have kept her alive but unless something changes, it's going to kill her. And that is where Étienne comes in and when the excitement begins.
The dialogue, both spoken and internal, is very important in this story because it provides fast plot movement when needed as well as giving a reader the inside track on both of the main characters. There is a head hop here and there and it's well placed. In fact it plays a key role when it comes to Zach.
In Zach's POV I was given suspenseful teasers that I strongly believe foreshadow a bigger event in a future book. As it is, in Darkness Rises he's a secondary character and an asset to this novel. He provides humor, clues, drama and even comes across as a bit of a tragic character. Compared to the rest of the characters in the book, I'm probably the only person that feels that way.
Other secondary characters interact with or guide, tease, help or come to Étienne and Krysta's aid numerous times and in varied ways throughout the story. With all that going on, it sounds confusing but Ms. Duval kept a tight rein on all of the people that populate her world. The folks that I met in previous books don't fade away but are integral to this current adventure but neither do they undermine a reader's focus on the hero and heroine. There is never a doubt that Étienne and Krysta are falling in love and that it's their story that is center stage.
Seth's comments and reaction to their romance made me laugh. In fact there are healthy doses of humor, clever quips and comedic exchanges not only between the hero and heroine, but the heroine's brother and other key players throughout the novel. It's one of the reasons I like this series so much – they seem real.
I was also pleased when the loving transferred to energetic sheet action. It was just right and very well written. I had no complaints. It was seductive, erotic at times and the author always made sure that a reader knew the hero and heroine's love was growing stronger through each encounter.
The actions scenes were tight and well written. This novel has a heavy dose of suspense, action, thrills, sword fights, guns and plenty of bad vampires meeting their end. Every now and again, I noticed the author would state something as a narrator would but that didn't bother me. Sometimes a fact is a fact and doesn't need to be embellished by fluff to get the point across.
All in all, I'm a very happy reader. Darkness Rises has more then met my expectations. This is a thrill ride from beginning to end and not to be missed. The novel is rich with story, plot, drama and strong characterizations. In fact, there are so many more juicy details in this book that I could not fit them all into this tiny review. Darkness Rises meets all my 'must haves' of an awesome read. It has a wonderful and fulfilling HEA that was top notch. Not only that, but there is a huge surprise at the end. Not just for a reader but for Krysta and Étienne as well. It made me laugh out loud and I wanted to high five Ms. Duval for writing such a clever and cute scene. It made the happy ever after extra special and had me turning the last page with a huge grin on my face. I am wowed.



Editor's note:
This article was originally published at Long and Short Reviews. It has been republished with permission. Like what you read? Subscribe to the
SFRB's free daily email notice so you can be up-to-date on our latest articles. Scroll up this page to the sign-up field on your right.