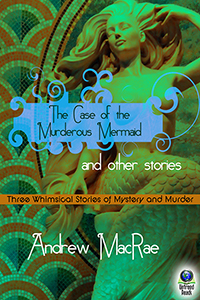 There's no such thing as a perfect crime. Or is there? It's easy to jump to conclusions while investigating crime scenes that are short on clues, but it takes a real expert to separate truth from fiction.
These tales are connected through the detective team who attempts to solve them. This was a unique way to bind together stories that otherwise had nothing in common, and I would have truly enjoyed reading a few more mysteries in this collection.
"The Case of the Murderous Mermaid" starts out with a strong, intriguing premise. Miranda had good reason to murder her employer, but she insists that she's innocent. It's up to the investigators to weasel out the truth. I figured out the solution at the last minute, and while it was clever I was never sure how a particular feat would have worked out logistically. The author's description of how it was supposed to have happened never quite gelled together for me.
I had no idea who the killer was in "The Case of the Villainous Vaudevillian"until the final reveal. Once again the set up was memorable, but I didn't understand why one of the characters made the choices he did when there were easier ways to accomplish his goals. Getting to know the flashy actors in this piece was amusing, but it was hard to overlook such obvious alternative solutions in the meantime.
"The Case of the Silver Suspect" was by far my favorite of the three. Mr. MacRae's creativity and attention to detail fleshed out the the identity of the silver man as soon as Ferguson and Stone visit his body at the morgue. If I was rating the entire book on this entry alone it would be a 4 star story, and had the number of witnesses been reduced so that more time could be spent explaining their motivations for certain behaviours it would have easily earned 5 stars.
It would have been helpful to learn more about Sgt. Ferguson and Detective First Grade Kelly Stone's personalities, interests, and backstories. Despite being featured in all three stories I learned almost nothing about either one of these characters. The few details I did pick up whetted my appetite for more, though, and I sincerely hope that the author will write more mysteries for these men to solve.
The Case of the Murderous Mermaid and Other Stories is a solid example of the contemporary mystery genre. I hope that this is the first glimpse into a long-lived and successful series, and it is the kind of work that I'd recommend to long-term and brand new fans of this genre alike.



Editor's note:
This article was originally published at Long and Short Reviews. It has been republished with permission. Like what you read? Subscribe to the
SFRB's free daily email notice so you can be up-to-date on our latest articles. Scroll up this page to the sign-up field on your right.