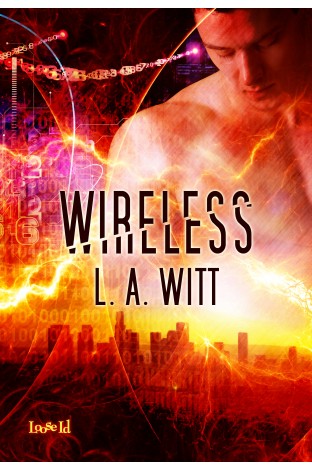 In a world where touch is illegal, people will find a way to have what they crave. Keith is a simhouse tech. He's the guy that hooks people up for their virtual sex sessions. The government hopes that this will prevent the spread of disease while still giving everyone the physical, emotional, and hormonal release they crave. Yet not everyone is satisfied with the sterile environment. Some still want the skin to skin touch, the feel of unfettered and raw sex with another person. These people meet on the edges of society for orgies and raves. Keith has never had any interest in them until he meets Aiden. Aiden promises to show Keith what sex can really feel like.
Wireless is a futuristic romance with a dash of science fiction. Set in an undetermined future where any kind of skin-to-skin touch is illegal, their only release is a virtual stimulation with pixelated partners. I don't think the concept is fully fleshed out as the reasoning doesn't make a lot of sense. Supposedly the no touching rule, which includes even the most basic or fleeting of touches, is to prevent the spread of disease. However, in the very advanced, well-connected world I'd think they could simply find medical cures for those diseases. Nevertheless, the story revolves around Keith and Aiden as they embark on an illegal adventure to have real "wireless" sex with each other.
The characters are decently well developed though since the story is told from Keith's point of view, Aiden remains a mystery for most of it. I never understood Aiden's motivations and he disappears from the story, and Keith, for long periods of time without explanation. The story is filled with sex scenes and Keith participates in "real" sex many times with several different partners. I can understand the allure of the forbidden, though Keith never struck me as the type of guy who would go for that. More so that he accepts it because he wants Aiden. Therefore some of the story didn't ring especially true or real with how I understood the characters.
The pace is quick with a lot of action and tense moments, but it did sag in the middle. It ended strong though and I liked that the ending didn't offer some ridiculous conclusion to the problems and legality of the situation, but felt like what I thought would have to happen. It's definitely a romance and the world building is a nice, if pale, part of the story. The strengths are the chemistry between the couple and quick, easy writing. This will likely appeal to fans that like a little science fiction in their steamy romance.



Editor's note:
This article was originally published at Long and Short Reviews. It has been republished with permission. Like what you read? Subscribe to the
SFRB's free daily email notice so you can be up-to-date on our latest articles. Scroll up this page to the sign-up field on your right.