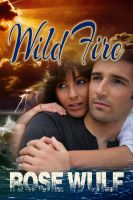 Is Arianna's carefully rebuilt life about to come crashing down around her?
Arianna simply wants to leave the ugliness of her past behind her. Instead, she finds herself an unwilling pawn in a war between two families she knows nothing about. Just moments after having a brief and slightly flirty conversation with Dean, Arianna is immediately targeted by the Hawke family's enemies who just happen to be able to throw lightning and control the weather.
I have to say that Arianna handles the revelations about Dean and his family extremely well considering how quickly she is pulled into his world. I think she accepts things a bit too quickly, but given the brisk pace of the story and the escalating behavior of the enemy family, Arianna simply doesn't have time to second guess anything Dean tells her. Fortunately, Arianna is much more than a pretty face. She is smart, tough, and more than holds her own against anyone who tries to hurt her.
Arianna is a great heroine. She is determined to make some big changes to her behavior so she doesn't repeat mistakes from her past. What I like most about Arianna and her fresh outlook on life and her new found self-respect, is that she isn't doing it to impress anyone. She is doing it simply for herself. I think she is a good role model for young woman who feel pressured to change for other people.
I have to admit that I wasn't quite sure what to expect from Dean when I started reading Wild Fire. In the previous three books of the series, he seems flippant and impulsive. It is also heavily implied that Dean has a bit of a reputation when it comes to woman. However, I was pleasantly surprised to discover that there is much more to Dean. He cares deeply about his family and his flirtatious manner with woman only serves to mask a wounded heart. When Dean and Arianna open their hearts to each other, they are truly a great couple. They have excellent chemistry and Dean's impulsive temperament is balanced by Arianna's more level headed approach.
I found Dean's ongoing conflict with his sister Angela frustrating. Angela keeps saying she wants to be treated like an adult, but then turns around and throws a tantrum. Dean is a bit slow to pick up on what exactly is bothering Angela, but he would have figured it out much faster if Angela would have taken the time to talk to him rather than fall back on the old, "if you don't know I'm not telling you" argument. Angela behaves immaturely at times, but I definitely think she has potential. I look forward to watching her grow up a bit.
Wild Fire is an excellent addition to Ms. Wulf's Elemental series. It is a fun, fast paced story about the power of love and family sure to delight fans of paranormal romance and happy endings.



Editor's note:
This article was originally published at Long and Short Reviews. It has been republished with permission. Like what you read? Subscribe to the
SFRB's free daily email notice so you can be up-to-date on our latest articles. Scroll up this page to the sign-up field on your right.