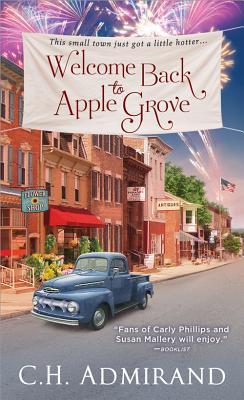 This is the book to scoop up when in need of a novel powered by pure romance. Welcome Back to Apple Grove is the epitome of a character driven tale that reaches in and touches the sentiments of the heart. The story closely follows two people who thought they were only friends, but through fate and family machinations soon discover they are the answer to each other's long held hope of finding 'the one'. How they reach that conclusion is the treat.
I've read Meg and Cait's stories and I enjoyed both of them. This time around it's Grace's turn. The one consistent trend about Ms. Admirand's series is that each one is a solid standalone. Every book embraces well developed, believable and likeable people who find love when they least expect it. The dialogue is the window to their souls and the key to understanding what an amazing community the author created for her characters. There are important secondary characters that flavor the story and showcase the strengths of the main protagonists. Many have been woven in and out between all three of the books I've read and if you're lucky to have read them all as I have, I believe that sense of connection increases the enjoyment. There is a benefit to having read the series to be sure, but Grace and Pat can hold their own and they do so, with style.
Grace is the baby bird that flew from the nest thinking the world beyond was going to provide her the good life. The heroine is a hard worker, a bit of a data geek and a little self-conscious about her weight. She has a few insecurities and dreams many a reader can relate to. She also belongs to a loving family and Ms. Admirand was very effective in getting that across. It's almost to the point of sugar-shock. But since I adore Meg and Cait and their very yummy husbands, I can forgive the overabundance of cotton candy sweetness. It sort of made me wish that a community that tightly woven and supportive truly existed in my own little part of the world. As it is, it worked for this book.
Pat is a firefighter with an emotional boulder on his back. He comes from a rather large and from the sounds of it, rambunctious and loving family as well. He's great with kids, does his job to the best of his ability and he's perfect for Grace. In fact, the descriptions of his physical prowess were hot-flash inducing at times. But for all that perfection, when it started to sound like he was too perfect, the poor hero totally botches it with Grace. It takes a bit of help from his firefighter brothers and a bit of manly persuasion from Grace's side to make the man see sense. In fact, that whole scene towards the end was extremely well written. I could envision all that went into waking Pat up and making him coherent enough to listen to reason. It brought him back down to earth and I liked him all the more for it.
There is a bit of light drama that I believe served to illustrate just how strong a character Grace was, how amazing and close the community was and poked a bit at another aspect of Grace and Pat's personalities. The author chose to use it as a tool to make a point without deviating from the basic fact that Welcome Back to Apple Grove is 100% a romance story about two people falling in love. They don't fight it with false insecurities. The author kept all over the top internal angst and drama out of it. This is a book that is a pleasure to read because it's about love: falling in love, being in love and exploring every little delightful nuance.
For readers who enjoy moments when a hero and heroine satisfy their built up yearnings and desires culminating with doing the sheet rumba and the sexy truck tango, this book delivers. Ms. Admirand knows how to make her heroine swoon and a reader right along with her.
Conflicts are mostly light and internal. I could understand one of Grace's. Pat's, on the other hand, seemed too drawn out for my tastes. I agree it's a good and believable conflict, but it seemed to me, based upon his internal POV that he would have been ready to share it, hint at it, or deal with it earlier on. And, I might have missed it, but I would swear that one of the things that Grace was also reticent to disclose, about her own hurt, never was revealed to the hero. So if there was no intent to reveal it, why give it any importance at all, right? Other than those two items, this book was a smooth reading experience.
Welcome Back to Apple Grove is a romance reader's guilty pleasure. It's fun, entertaining, lighthearted and thoroughly driven by love. This is a feel good book, meant to take a reader on a journey where they can smile, relax and enjoy and forget about life's cares for a while. I heartily recommend this story for those reasons. It's a little treasure.



Editor's note:
This article was originally published at Long and Short Reviews. It has been republished with permission. Like what you read? Subscribe to the
SFRB's free daily email notice so you can be up-to-date on our latest articles. Scroll up this page to the sign-up field on your right.