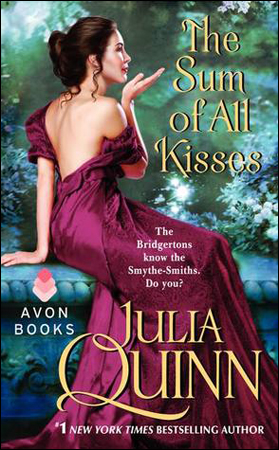 The dialogue in The Sum of All Kisses crackles and sparkles with innuendo and humor. Only a thin veneer of social manners veils the verbal battle that is ongoing with Hugh Prentice and Sarah Pleinsworth.
The song "Getting to Know You" came to mind as I read. What Hugh and Sarah perceive to be true and what is really true are very different. These two strike sparks off each other from the word go. Sarah's overly dramatic pronouncement that he ruined her life and the enigmatic statement that fourteen men became engaged in the 1819 Season puts Hugh in a quandary. He doesn't even know this young woman and he is in no humor to act the gentleman. His pain, distaste for socializing, and burden of guilt make him impatient and rude to the outspoken twenty-one-year-old Sarah.
They cannot escape each other. Mutual friends and Sarah's relatives, all involved in two huge wedding parties, make it impossible. Their getting to know each other takes the reader along on the "The Great and Terrible Caravan" of the socially elite first to Fensmore for the wedding of Honoria, Sarah's cousin, to Marcus Holyrod, Earl of Chatteris who is Hugh's friend; then to Whipple Hall to the wedding for Sarah's cousin Daniel Smythe-Smith, Earl of Winstead to Miss Anne Wynter. Daniel is a dear friend of Hugh's and the one he shot in a duel more than three years earlier. Both wedding parties are huge affairs and go on and on with Sarah obligated to be nice (well, sort of nice) to Hugh for her cousin's sake.
The humor and fun with Sarah's sisters and cousins offer lots of chuckles and giggles. The eleven-year-old Frances is one of my favorites. Her antics with her older sisters and her child's insight regarding Hugh and his anti-social ways is special. The ongoing bit about the Musicales that Sarah and kin do each year is delightful; while the endless squabbling of Sarah's three younger sisters brings a smile—so like sisters.
A dark side that Hugh as always had to deal with and how it boils over into his friends' lives is blood-chilling. Hugh's father, the marquess of Ramsgate, is an antagonist that makes one shudder with disgust and horror. How he is finally brought to heel is so satisfying. I'm glad the encounter with him was not too lengthy because the rest of the story is far too delightful with lively conversation and joyous love scenes to be blighted by sordid horrors Hugh and his brother had dealt with all their lives. How Sarah figures into stopping Ramsgate's reign of terror is adrenaline-pumping action.
Julia Quinn creates memorable characters with unique personalities that engage the reader immediately. The humor, deep-emotional needs, and especially the maturation of the heroine make The Sum of All Kisses a story one doesn't want to put down until it gets to that happy-every-after ending.



Editor's note:
This article was originally published at Long and Short Reviews. It has been republished with permission. Like what you read? Subscribe to the
SFRB's free daily email notice so you can be up-to-date on our latest articles. Scroll up this page to the sign-up field on your right.