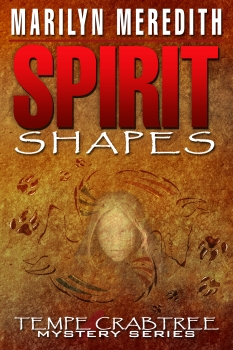 Deputy Tempe Crabtree gets called to a haunted house after a murdered teen is found. The minute she walks into the house she is overwhelmed by a whirlwind of spirits and ghosts, good and evil, and she realizes that the house truly is haunted. She calls in the detectives to investigate, hoping that she won't really be involved, especially since one of the detectives has no respect for her as a law enforcement officer. Tempe is not only a woman, but also part Native American, and she has the ability to see spirits which the detective doesn't believe in. But Tempe is selected to do most of the investigating on the case, so she has to figure out the case and also set the spirits free, with the help of her husband, a local pastor.
I like Tempe and she is a well-defined character whom I believe in. There are also a number of other interesting characters, such as Nora Jennings, the town's oldest resident, Nick Two John, the chef and owner of Bear Creek Inn, and Doretha, a Native American shaman. I wasn't as fond of Tempe's husband, Hutch, as he seemed a bit flat, but otherwise, I thought the characters were natural and believable. The atmosphere in the haunted house was very well portrayed and I was really on edge whenever Tempe was there. Obviously the house contains more mysteries than just the one Tempe is supposed to solve.
Overall, Marilyn Meredith gives appropriate clues and plays fair with her readers, allowing the suspense to build, but I did think it was strange that guidance counselor claims she's never heard of one of the high school students, a student who keeps making contact with Tempe. Also, the mystery is much more about figuring out how to set the spirits free than it is about solving the murder.
This is a lovely cozy mystery which fans of that genre will certainly enjoy. It is the twelfth in a series, but I never would have known that if I hadn't seen it in the title. It works just fine as a stand alone, and I had no difficulties following the plot. If you are looking for a mystery involving spirits, this might just fit the bill.



Editor's note:
This article was originally published at Long and Short Reviews. It has been republished with permission. Like what you read? Subscribe to the
SFRB's free daily email notice so you can be up-to-date on our latest articles. Scroll up this page to the sign-up field on your right.