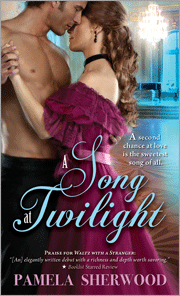 Innocent, beautiful, bubbly Sophie Tresilian with the spellbinding soprano voice and older, mysterious Robin Pendarvis see each other at her seventeenth birthday party. Like the moon draws the tide, Sophie is drawn to Robin. Their lives are changed forever. A precious love, like a tiny seed, begins to grow, pure, sweet, and caring with an easy-going companionship. For two years it is protected and celebrated with joy; then it must hibernate to give way to old responsibilities. They must part. Doing the 'right' thing as duty and honor demand is cold comfort for two broken hearts. Sophie is a true Tresilian and Tresilians, like swans, mate for life.
Four years later Sophie is a successful opera singer with her concerts always sold out. Her voice is even more hauntingly compelling after her training at the Royal College of Music. She is a strong, independent woman with a heart that longs for its one true love. She lives alone with her cat Tatiana and rarely goes home to her beloved Cornwall. Robin and his wife Natalie and the two children live in the prosperous Pendarvis Hall hotel that Sophie had so much influence in refurbishing. But life is never static and, even though hope is a dangerous emotional, it refuses to die.
Though nine years her senior, Robin cannot deny the desire, attraction, and pleasure he feels for Sophie. Her companionship is a balm to his weary soul. She is no gauche, awkward girl, but a graceful, happy young woman comfortable in her own skin and wise beyond her years. He is a flawed but honorable man and gives her up when Natalie, his wife, who ran away many years ago arrives with two children. When Natalie's unfaithful ways push him past his limit, his actions set off a chain of events that propel the reader into suspense, mystery, and the tentative, uneasy meeting with the famous Sophie—not daring to hope but hoping anyway for what they once had. Theirs is a love story to savor, not to be rushed through.
Some of the secondary characters I had met in a previous novel of Ms. Sherwood's and it was delightful to see how their lives were unfolding. Sir Lucas Nankivell was new to me and seemed to have not a single redeeming quality. There are Lord and Lady Daventry with the cowed niece Marianne they did not know. The overbearing Lady Daventry with her hateful, condescending manner added a new diminish to the unfolding of the plot. The beautiful, French Natalie, seemingly with no conscience stirs the ire of many yet never yields her position of power.
Pamela Sherwood weaves beautiful, enchanting music into the story that augments the specialness of love. Her writing is rather lyrical itself, smooth to read and swept along with. She slips the reader into the time and location with remarkable description. She also weaves in the many creature comforts that began to be enjoyed in the late Victorian Age. Things like indoor plumbing, electricity, and ice tea for example. Moreover, she used a thread so bright and compelling to weave in a new awareness of the emergence of more self-actualized women. They were gaining more freedom and were being treated like intelligent individuals rather than like property to be used by their families' or husbands' as they saw fit.
A Song at Twilight is a tribute to love that is long-suffering and patient yet joyous, giving, and looking to the future when the conflicts and obstacles get shoveled out of the way. I did so enjoy the songs and quotes that celebrate love through the ages. A delightful book to wind down the day with.



Editor's note:
This article was originally published at Long and Short Reviews. It has been republished with permission. Like what you read? Subscribe to the
SFRB's free daily email notice so you can be up-to-date on our latest articles. Scroll up this page to the sign-up field on your right.