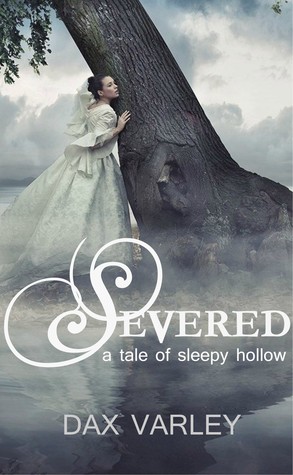 The Horseman has returned. He haunts their days and terrorizes their nights, selecting his victims seemingly at random—but it's Katrina he yearns for.
Katrina Van Tassel lives a privileged life in Sleepy Hollow. She's the daughter of the wealthiest man in town and destined for marriage with her father's overseer. But Katrina dreams of traveling the world and leaving isolated Sleepy Hollow behind, and she's not afraid to forfeit her coddled existence to make that happen. Katrina is an easy character to like. She's strong-minded and independent and not afraid to take matters into her own hands when Sleepy Hollow's resident ghost threatens those she loves.
Ichabod Crane is the teacher who arrives in Sleepy Hollow just after the Horseman has claimed his latest victim. Ichabod and Katrina form an instant connection, but there are plenty of people who'd like to stand in their way—including her father, her best friend, and her most persistent suitor. Like Katrina, Ichabod is an easy character to like, but the reader does not get as strong a sense of him since the story is told exclusively from Katrina's point of view. The romance between Katrina and Ichabod is easy to root for, even though their relationship develops rather fast.
The author does a good job of creating her ominous world. It is easy to become immersed in Sleepy Hollow and feel the tension of the characters as they wonder who the next victim will be. The mystery of who the Horseman is and the suspense of what he wants is nicely paced throughout the novel. I also appreciated that in this story, it's more often the heroine riding to the hero's rescue, than the other way around. But as that independence and freedom for the heroine might suggest, this is not a novel for readers who prefer authentic historical atmosphere. Katrina and Ichabod are essentially modern characters in a vaguely eighteenth century setting. It works for this story, but I was occasionally distracted by too-modern dialogue or attitudes. I did appreciate, though, that the author tackles some important issues throughout the story, such as slavery, which I was surprised to learn was still legal in New York in 1793.
I'm not really familiar with the source material, so I don't know how this book would strike a fan of Washington Irving's original story, but I enjoyed Katrina and Ichabod's romantic adventures. I think any YA reader who enjoys a good scare, a feisty heroine, and a captivating romance will like Severed.



Editor's note:
This article was originally published at Long and Short Reviews. It has been republished with permission. Like what you read? Subscribe to the
SFRB's free daily email notice so you can be up-to-date on our latest articles. Scroll up this page to the sign-up field on your right.