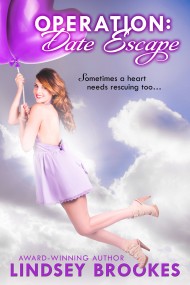 Operation: Date Escape is a fun read for any time you just want to escape and smile. Kelsie is a nice girl who just wishes her mom would stop setting her up with any man she meets. She's divorced and determined to never risk her heart again, but can't seem to say no to the dozens of blind dates she keeps having with unacceptable men.
Hence her "date escapes". She keeps a notebook of them … ways to get out of a bad date without hurting the feelings of the guy she's with. Okay, so maybe climbing out the window of the bathroom of a strip joint isn't very subtle, but she did get to see that hot fireman again. Too bad he's perfect. She has a real problem with perfect men … her ex-husband was one and look how that turned out. The author definitely showed some creativity with her date escapes and I wouldn't mind reading the book Kelsie was writing. I bet it would be a hoot.
I have to say I loved Cole. He really was perfect. I don't think he had one flaw. Handsome, smart, funny, patient, heroic, determined … in fact, I think the only time I thought he might actually be human was at the very end. As much as I loved him, though, I really wish he'd have had something wrong with him to make him more real.
I utterly adored Nanci, Kelsie's best friend. She was smart-assed, straight talking and a hoot and I was tickled pink she hooked up (pretty much literally — Nanci's all about sex all the time) with Cole's buddy, Joe. They were quite possibly the best part of the book and made me laugh more than once. They were involved with Cole and Kelsie without being overtly manipulative, had some awesome one liners and just made me grin every time they showed up on the page. I hope they stick it out to their own HEA because, while they weren't perfect, they sure were perfect together.
I wanted to smack Kelsie's mom. I didn't find her particularly endearing … I think I was supposed to, but between telling her daughter she needed a boob job, and shoving men at her all the time, refusing to listen to Kelsie, she just grated on me. I know moms aren't perfect, but I kept thinking she'd grow and change a bit. And I really, really wanted Kelsie to tell her off.
The author is quite skilled with words. I have no complaints with the mechanics of the story. Her descriptions were perfect, her dialog real and believable, the editing was clean. She's clearly amazingly talented and while I didn't love the story (mostly because I spent much of the time wishing Kelsie would grow a spine), I'd absolutely pick up another book by her. Operation: Date Escape had its shining moments — and it's a book I'd recommend to folks looking for a light, funny, sweet and romantic read.



Editor's note:
This article was originally published at Long and Short Reviews. It has been republished with permission. Like what you read? Subscribe to the
SFRB's free daily email notice so you can be up-to-date on our latest articles. Scroll up this page to the sign-up field on your right.