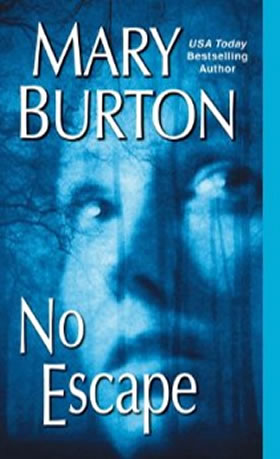 "A coyote howled in the distance." Where I live this is an ominous sound. It is the harbinger of killing. That howl made me feel sure bad things were in store for the characters of No Escape—and they were.
Harvey Smith is Pure Evil and knows how to get into people's minds and play havoc with their lives. He has two secrets. One he'll reveal; the other he'll leave clues for others to use to find out on their own.
Dr. Jo Granger knows a lot about Harvey Smith in a superficial way. Before he is through with his machinations, she'll know about him in-depth and maybe to her detriment. The imprisoned, dying Smith will speak only to Dr. Jo Granger to tell about his past and where bodies can be found. Consequently, Jo is once again in the arena of action with Texas Ranger Brody Winchester, a man from her past. It has been fourteen years since they parted but Jo still has to repeat her mantra "Let go, Let go."
Texas Ranger Brody Winchester is no longer the self-centered college athlete that is heedless to the needs of others. He's not the classic 'pretty boy' but is tall, lean, broad shouldered and radiates raw power and dangerous energy. He knows his job and does it well. However, he carries a ton of guilt about the way he treated Jo fourteen years ago when she needed his support and all he could think was 'poor me.' He wants to set things right—not an easy thing to do.
Jo, in her logical way, tells Brody they should just be grateful for the civility they have managed and not try to make it anything else. But hearts don't seem to understand logic. Hearts have needs that logic cannot explain. The strong undercurrent of the 'I-will-be-acknowledged emotions almost swamp both Jo and Brody as they work together to unravel the horrific, grisly details and clues from interviews and surveillance tapes that relate to Harvey Smith.
Mary Burton sweeps the reader into the action where buried-alive women, an apprentice has stepped up to continue Smith's unconscionable, murdering ways, and where an array of sociopaths for red-herrings muddies the waters. Suspense keeps the nerves on edge as Jo realizes she is being stalked and that her own mother has dark secrets that could change Jo's life forever. Little by little Jo becomes more entangled in the web of Smith's doings. It truly seems there is "no escape" for her.
Secondary characters give depth and insight into events and into the actions of the primary characters. Texas Ranger Rick Santos that Jo has worked with on cases and whom she considers a dear friend slips in and out of the action keeping the reader alert to where he fits in. Joe's friends Lara and Cassidy along with the "at-risk" girls Jo works with show other facets of her personality; while her more professional acquaintances like the realtor Tim Neumann, the dentist Dr. Dayton, the brother of one of the dead women Scott Connors, and, of course, Robbie that Harvey Smith raised and trained from the age of twelve all keep the reader aware of the horrific murders Smith committed and they create adrenaline-pumping action that keeps one turning pages.
Mary Burton embraces the dark side of humanity as she juxtapositions beautiful pastures of Bluebonnets with the graves of women buried alive beneath them. The complexities of the plot and the characters along with Ms. Burton's engrossing storytelling style make one shudder at the grisly details at times and at other times makes one sigh with satisfaction when seemingly impossible odds are overcome and LOVE is rewarded with the pure joy of having been acknowledged and given a place in the hearts of Jo and Brody forever.
No Escape is a chilling thriller that makes one shiver and it has a climax that is terrifying. The horror of the climax makes the happy-ever-after even sweeter. It is like a balm that soothes and heals the hurts. This well-paced tale that assails the senses and makes emotions bubble is excellent entertainment.



Editor's note:
This article was originally published at Long and Short Reviews. It has been republished with permission. Like what you read? Subscribe to the
SFRB's free daily email notice so you can be up-to-date on our latest articles. Scroll up this page to the sign-up field on your right.