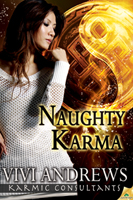 This latest episode in Vivi Andrews' Karmic Consultants series finally takes a look at the life and thoughts of Karma, the woman behind Karmic Consultants, and it has been a delight to uncover the person that keeps everything moving along on an even keel at the agency. I have enjoyed learning more about her, discovering that she is not always the calm and controlled one running the show. I like this world Ms. Andrews has built, and the characters she has inhabited this world with.
If you want something found, if you need your new house exorcised, if strange things keep happening, the ones to call are the Karmic Consultants. As head of the agency, Karma Cox has someone to handle just about anything you could name.
After a particularly rough spell, she is approached by dark magic wielder Prometheus, a thorn in her side for far too long. He used his magic to get her attention, because he needs her help to regain something he sold two centuries ago…his heart. Prometheus sold his heart to a devil two hundred years ago for nearly unlimited power, never thinking that the time would come when the contract would be due. Now, he needs the vast power that Karma can wield to help locate his heart so he can steal it back. But first, he must convince Karma to release the rigid control she keeps on her chaotic reserves, and he plans his seduction carefully.
Karma Cox is strong and powerful, but her power frightens her. So she keeps a tight control over her power, and hides her desires from everyone she knows. She is smart, talented and extremely loyal to her friends and family, and tries to protect everyone in her circle. I liked seeing a different side of Karma, especially as she fought her attraction to Prometheus, and the softer side she so seldom lets show was delightful.
Prometheus is powerful, and he is the first to admit he is not a good person. But he isn't fully evil, either, and as this story moves along, I liked watching him slowly discover the part of him that got hidden away so long ago when he sold his heart. He is determined to get back what he so foolishly sold, and I liked that he went from determined and uncaring to someone who realized that he actually needed someone's help; Karma's help. I enjoyed watching the seduction of Karma, especially as it soon became apparent she wasn't the only one being seduced here.
There are several barriers to Karma and Prometheus' happy ever after, and some involve Karma's friends and family. And there are a few surprising supporters of Prometheus' pursuit of Karma as well, also in her immediate circle. There is laughter, romance and lots of heat here, and one very funny scene when Prometheus gets Karma drunk and, well, things happen; unusual and slightly funny and unexpected things. I enjoyed seeing all of the past characters put in cameo appearances here, and catching up with old friends from other books. Do Karma and Prometheus find their middle ground and their happy ever after? It took some work, but yes they did. It was a hard fought battle, but so worth what they ended up with, finally. I recommend this for everyone who needs some powerful magic in their lives and their romances.



Editor's note:
This article was originally published at Long and Short Reviews. It has been republished with permission. Like what you read? Subscribe to the
SFRB's free daily email notice so you can be up-to-date on our latest articles. Scroll up this page to the sign-up field on your right.