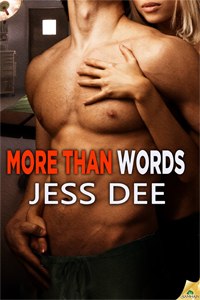 With dialog so sizzling hot that one might expect third-degree burns just from reading her books, Jess Dee definitely gives her readers "More than Words" with her creative literature! Never fret if you do sustain scorch marks as Ms Dee knows the perfect prescription for those injuries sustained while approaching her novels that are too hot to handle; why not give us a sexy and hot physician to fuel our imaginations and sooth the raging hormones? I adore Ms. Dee's books as they are extremely entertaining, pictorially descriptive and when seeking the perfect romance novel filled with scorching love-scenes to cure a slagging libido, Jess Dee has proven herself as one writer whose works are just what the doctor ordered.
Sometimes accidents do happen…but that is why we have good medical care available to help us recover from such accidents. Molly Harris has had a dozy of an accident lately; she has accidentally sent her Pediatrician boss, the hot and sexy Dr. Sam Shepherd an email outlining all of her secret fantasies that she has had recently where he is concerned. But rest assured, the good doctor knows just how to treat this accident. While Molly may be mortified that she has exposed her secrets and thus possibly ending her job status as receptionist, Dr. Sam has discovered that he has a new medical condition to contend with. Symptoms include: fever, stiffness, heart palpitations and erotic daydreaming about his sweet-Molly, and if he has to suffer then he wants her to suffer also (after all he is sure now that this illness is contagious). But what a way to go…
WOW; Fueled with fantasy material for many days worth of dreaming, More than Words has been added to my list of favorite Jess Dee books. Ms. Dee makes her characters so lovable, sexy and exciting that you cannot help of fantasize right along with them. Even though this book is a part of a series, it is a wonderful stand-alone book and does not need any previous commentary to catch-up the reader before they can grasp the story-line. I simple could not put this book down until I read it through in one-sitting. Placed in my favorite book folder, I am sure this will be one novel that I will return to again in the future.
If your internal bookworm is seeking medical advice on how to cure boredom and you're looking for reading material that brings a smile to your face and a skip in your heartbeat, then More than Words might just be the perfect prescription for you!



Editor's note:
This article was originally published at Long and Short Reviews. It has been republished with permission. Like what you read? Subscribe to the
SFRB's free daily email notice so you can be up-to-date on our latest articles. Scroll up this page to the sign-up field on your right.