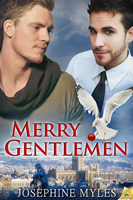 Riley's ghost of ex-boyfriend's past may just be his future. Riley is determined to climb up the corporate ladder, or the local council ladder. He's agreed to be the manager of the holiday market, which has a whole set of problems and headaches on its own. Riley is pretty sure he's perfect for the job but the one thing he didn't count on was Stan. Stan and Riley were deeply in love five years ago before Stan up and left to live in the woods. A true city dweller at heart, Riley has never gotten over his lost love. Now stuck in the same place for a couple of weeks the two men try to decide if they can make it work or are they too different.
Merry Gentlemen is a feel good holiday story. Stan and Riley are ex-boyfriends that still love each other after all this time. They get a second chance at possible happiness when they're thrown together but they both worry they're simply too different to make it work. I like this story because it feels realistic and relatable while also being humorous and a bit ridiculous. Riley is an adorable narrator with lots of charm and funny antics. Sometimes his antics are over the top such as modeling his yearly secret santa thong gift for his co-workers while other times he just tries to fix a crisis, such as singing ABBA to distract a crowd. It lends a light-hearted feel to the story and one that meant I couldn't invest heavily into the relationship but instead just enjoy it for what it was.
Since Riley is the narrator, Stan's motivations are somewhat less well known. I could tell they loved each other and had great sex together but they really are very different people at the heart of their needs. It's nice to see how the two men try to adjust and compromise to make a relationship work, one they both very much want. The plot also has a surprising amount of action, considering it's basically a holiday story about ex's reuniting, and I found myself easily turning pages. The tone is very light and breezy, meant for entertainment more than angst.
If you're looking for a well-written, highly entertaining holiday story with a good dose of silly behavior then Merry Gentlemen is for you! It's a great introduction to the author's writing style while giving a very satisfying and feel good ending. There's enough chemistry between the main men to warm up most any reader on a cold night.



Editor's note:
This article was originally published at Long and Short Reviews. It has been republished with permission. Like what you read? Subscribe to the
SFRB's free daily email notice so you can be up-to-date on our latest articles. Scroll up this page to the sign-up field on your right.