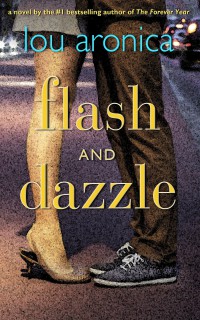 The talented Rich Flaster (Flash) and Eric Dazman (Dazzle) are successful in the highly competitive advertising business in Manhattan, N.Y. Material things, casual friends, fine dining, and entertainment are theirs in abundance. Their life style is truly full of flash and dazzle but there is an emptiness that they try to fill with partying, drinking, game playing, loud music, and frenzied work sessions. Not until they are faced with Eric's terminal cancer condition do they realize the lack of substance in their lives.
Stories told from the first person point of view are not usually something I enjoy, but I soon felt as if I were reading a slice of an autobiography as Rich Flaster deals with the undeniable impending death of his best friend that he identifies himself with. They have been a unit since college. Rich and Eric are from very different backgrounds yet connect in a unique way that buoys each of them up and makes them better.
Even with all their connectedness, they have secrets that never surfaced until the real issue of how to live day by day when death has control of the number of days makes them look deeper into themselves. Eric's sister Linda seems to be the catalyst that helps them find substance and value in life other than just the surface "keeping-busy" things that have filled their lives up to the time Eric is diagnosed with terminal cancer.
Life goes on for Rich but it will never be the same nor will life be the same for many of Eric friends because, in his own way, he had influenced each and every one of their lives with his exuberance for life.
Lou Aronica is a master story teller and reaches right in and touches one's heart with the humanness of his characters. He stirs emotions and senses that bring tears and laughter while sadness for the hurts in the human experience almost overwhelm at times. I would have loved being able to see some of the scenes from some of the other characters' points of view. I didn't feel that I got to know them as well as I would have had I been able to know their thoughts and inner feelings.
Flash and Dazzle is a poignant story that lingers in the memory and makes one hope the characters that Eric left behind will find a rewarding, happy life as they continue the human experience; while Eric is getting one of his remarkable parties ready for them to enjoy when they come to share with him the next experience after the human experience. This is a thought provoking novel.



Editor's note:
This article was originally published at Long and Short Reviews. It has been republished with permission. Like what you read? Subscribe to the
SFRB's free daily email notice so you can be up-to-date on our latest articles. Scroll up this page to the sign-up field on your right.