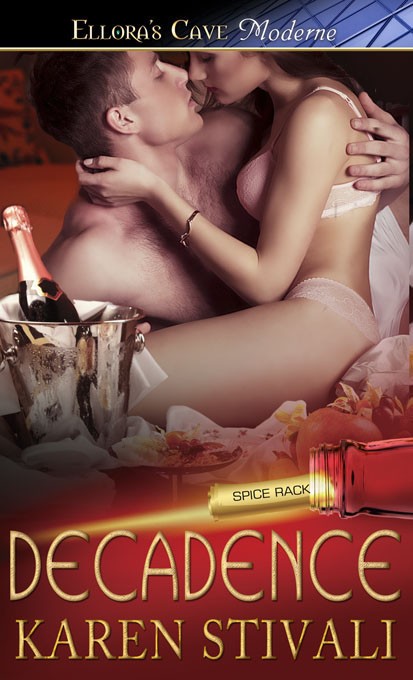 Jessica knows she's dwelling, but for the first time in eight years of marriage, Eric didn't kiss her goodbye before he left for work in the morning. No matter how hectic their morning rituals had become, the kiss goodbye had always been a given. Until this morning it suddenly wasn't. When Eric called to ask her to go back home and turn the toaster oven off, Jessica felt a mixture of annoyance and worry. With three young boys and the structure of her life changing Jessica is struggling to find that balance so many young mum's search for. Coming home to find her sexy husband has a naughty new game to play from the Spice Rack turns everything deliciously on its head.
Even though the Spice Rack bottle with the fantasy described is only from the "sweet" section, this is one smoking hot read. Jessica and Eric open themselves and renew much of their sensual sex life. I really enjoyed how this is a solid, well-developed couple in a long-lasting relationship. The book starts off almost immediately, with no need to go into how they meet, or those first tender explorations or descriptions of why they're attracted to each other. After many years married and children in school, Jessica and Eric are still clearly in love and attracted to each other. Even so, sometimes a very happily married couple can take a bit of adventure injection into their sex life.
While this style of "what happens after the Happily Ever After" isn't new, neither have I read a million books just like this. And the addition of the Spice Rack (a game with suggestions of various levels for how couples can make their intimate moments a bit spicier) is a wonderful plot device I greatly enjoyed. This was a great mechanism for helping Jessica and Eric re-open themselves to each other. I liked how Jessica admits she recently saw Eric masturbating (and how she came herself afterwards reliving that voyeuristic moment) and Eric admits in turn a secret about their first meeting. It showed me as a reader the depth of love between them that they could be so honest, but also showed me how they both longed to reconnect. While this isn't an edgy, sharp style of story, neither is it something you necessarily want your granny reading either. The sex is graphic and deliciously hot.
Filled with a lusty, happy snapshot of a happily married couple rediscovering each other this is a warm and compelling read. I was a little distracted by how some words were used quite repetitiously, creating an almost echo in my head as I'd read them multiple times in a few paragraphs. Also I thought it a bit strange that twice Jessica spoke on her cell phone while driving instead of using the hands free. These were both small niggles though, and overall I found the author's tone and style to be light, sexy and quite engrossing. The conflict side of the plot felt a little staged — as if it was added in because there "needed" to be some mystery/tension — when personally I'd have enjoyed the Spice Rack side of the story just fine for itself. Still, I think most people will thoroughly enjoy Jessica and Eric's re-connection as a couple and find their adventures in the bedroom (and other areas of the house!) quite exciting.
A good story for those who like their romance a bit on the spicy and erotic side, but not edgy enough to push the envelopes or try to broaden their boundaries. This is a fun, sexy romp and a thoroughly enjoyable story. Recommended.



Editor's note:
This article was originally published at Long and Short Reviews. It has been republished with permission. Like what you read? Subscribe to the
SFRB's free daily email notice so you can be up-to-date on our latest articles. Scroll up this page to the sign-up field on your right.