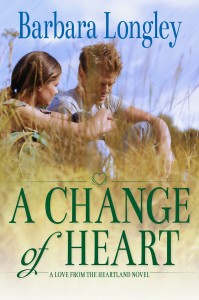 A Change of Heart is one of the sweetest, most tender romances I've read in quite some time.
Cory was brutalized by her commanding officer while stationed overseas. Instead of keeping quiet about it (which is apparently expected), so brought charges against him in a highly publicized case. And because of it she lost everything.
Now, back living in her mom's mobile home, feeling like worthless "trailer trash" again, she's drowning in despair until her lifelong friend, Brenda, comes along and shoves her back out into the world.
I really liked Brenda. She was a hoot and could make Cory do things like only a forever friend could. She truly saved Cory's life. Along with "Bunny", Brenda's brother (and I admit I LOVED that nickname for a big, strong guy) Cory is dragged, kicking and screaming, into the world.
Cory was exceptionally and realistically created. She has to learn how to be human again. How to trust, to allow casual (and less than casual) contact with people, to realize really deep down that the world isn't out to get her. She knows this in her head, but PTSD doesn't come from the logical part of a person. Thankfully, she's plopped down into a group of people who know what she's going through: the veterans at L&L who've gone through similar things themselves.
The odd man out, "not a veteran", Ted is the love interest for Cory. As much as I absolutely adored Ted–he was everything any woman would want–sometimes he seemed too perfect. Aside from the fact he was not a big, strong alpha male like typically seen in romances (which is good, since Cory would never have been attracted to that type after her experience), he just didn't seem as if he had any flaws. My first impression of him was when he was talking to several of his employees, all veterans, and he stood with his back to the open door because he knew it made them all nervous, allowing them to keep their backs to the wall. It was interesting to see how well he understood them all since he wasn't part of the "group". His only show of being human was his frustration at being called "kid" and the lack of respect afforded him largely due to his relative youth and that he hadn't served.
A Change of Heart is apparently part of a series, and while I didn't feel lost, exactly, I could tell I was missing things that might have made this a much richer experience. We have couples, one of whom is expecting their first child, and allusions to the fact that everyone who's stayed in the carriage house has fallen in love. The story is filled to the brim with secondary characters and I loved that — it's why I adore choosing small town romances, because of that — but I knew that most of them were probably ones that had been included in the previous books. Again, there is no trouble at all following the story line, but I think you will realize that it's part of a larger series.
Still, I really enjoyed my time in Perfect. The people were amazing, the story was the kind to make your heart sigh. Watching Ted and Cory fall in love, seeing how incredibly patient Ted was with her as she struggled to be normal again, chuckling over the other characters giving Ted grief, all the while circling their wagons a bit (Cory was warned not to hurt him because he's such a great guy with a huge heart) … it made me hungry to go back and read the other stories in the series. And I suspect there's another one coming up …
A Change of Heart is a book I recommend to people looking for a tender, touching romance with plenty of emotion. There are some difficult parts to read when Cory flashes back, and it may be tough for anyone who survived a similar assault to read, but it's handled well and realistically.
Ms. Longley has done a stellar job with her creation of Perfect and the people who populate the town. I can't wait for a return visit.



Editor's note:
This article was originally published at Long and Short Reviews. It has been republished with permission. Like what you read? Subscribe to the
SFRB's free daily email notice so you can be up-to-date on our latest articles. Scroll up this page to the sign-up field on your right.