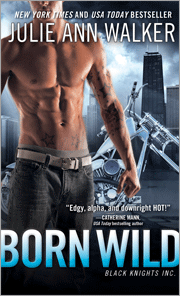 Of course, I wanted to read this as soon as I saw it was a Black Knights, Inc. novel. The secret operatives in this organization are sizzling. Sure enough, I was whisked away on a spine-tingling adventure from page one and swept along in the action to the very last page. Whether in a deadly situation or in a heart-melting, ecstatic love scene I felt as if I were right there. Julie Ann Walker weaves together another fantastic tale of the men and women involved with Black Knights Inc.
Bill Reichert, an ex-navy SEAL, is ill tempered and drinks Pepto Bismol like it's his favorite quaff. For over a decade he has defied death, defused IEDs, and did whatever dangerous task came his way. Now a member of Black Knights Inc. he still courts danger. He helped rescue his sister Becky and her rich, socialite friend Eve Edens from Somali pirates in the Indian Ocean about a year ago. Eve is the reason he acquired the name "Wild Bill". She broke her vow to him when she was nineteen and it broke his heart. He is snarky to her and avoids her if he can.
Eve is at her wits' end. The police don't believe she's in danger nor does her father or ex-husband. Her cousin Jeremy Buchanan who works vice in the police department cannot keep her safe. In desperation she turns to Black Knights Inc. knowing Bill will not be happy to see her. She is still in love with him but understands why he is the way he is. When he went into the military, she caved in to her father's pressure and married Blake Parish, a rich man who moved in the same social circles as the Edens. Now divorced, a respected marine biologist, and a lots wiser, she longs to set things right with Bill. He is no longer the laughing, fun-loving, sexy, twenty-one-year-old she fell in love with; he is a world weary soldier, hard, impatient, and has a menacing air about him.
Only a few of the men are at Black Knights Inc. headquarters when she arrives asking for help, but they take her in. Bryan "Mac" McMillan threatens Bill if he is not nice to her. Of course, the adorable Ace, who is admittedly gay, pampers Eve, fusses over her, and touches her often as they talk, making Bill angry enough to bite nails. The language these guys use is atrocious, graphic and vulgar, yet it seems to fit their way of life.
Born Wild is chock full of scary, life-threatening happens. The shooting at Red Delilah's Biker Bar, the search for Dale Pennyworth, a stalker, on the means, darks streets of Chicago, a wild storm on Lake Michigan while Bill and Eve are in her sailing yacht on their way to a hideout, a good-old-fashioned shoot out in a deserted parking lot, and a love scene that raises one's temperature, accelerates the heart rate, and sends the imagination soaring. "Get-the-job-done" heroes who are also breathtaking lovers and heroines who match them every step of the way make Black Knights, Inc. novels rollicking, riveting, and romantic. Super reading!



Editor's note:
This article was originally published at Long and Short Reviews. It has been republished with permission. Like what you read? Subscribe to the
SFRB's free daily email notice so you can be up-to-date on our latest articles. Scroll up this page to the sign-up field on your right.