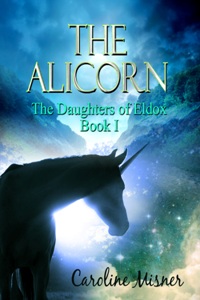 Vala Hide helps her injured father after their village is destroyed by arson. They struggle to the nearest village with only the clothes on their backs and the alicorn, a gift given to Vala on the day she was born. They are helped by the gypsies, and while they begin their escape from the village and the evil Pressor Garr, Vala learns that she is the Chosen One, destined to be the Maiden of Eldox. Vala and her father, Castor, must escape to the valley of the unicorns where Vala will learn what it means to be the Chosen One.
Caroline Misner has written a truly remarkable coming of age story. The characters are well-developed and believable. The bond between Castor and Vala is a very strong, loving bond forged over the years as Castor raised Vala by himself. His wife, Vala's mother, died giving birth to her and he never told her of the remarkable appearance of a unicorn just after her birth. Now, as a young woman, Vala learns of her destiny. All she wants to be is a simple farmer's daughter, but that is not to be. I really liked both Vala and Castor and their adventures are both exciting and terrifying.
Misner has a real gift for description and as she moves her characters from the village through a forest and bog and into the mountains, I could smell, see, and feel the surroundings. The action is fast-paced and Pressor Garr and his soldiers are never far behind. Vala has to find the path guided only by the alicorn, and Castor's roll is to protect her, even though he has no training in swordsmanship. The quest for the unicorns is an arduous one, and I was right there with them the entire way.
Lovers of fantasy are sure to enjoy this exciting story which, according to the title, is the first in a new series. I read the book in one sitting, not wanting to put it down, and I really hope that the next book in the series will be published soon.
Editor's note:
This review has been published with the permission of Grady Harp. Like what you read? Subscribe to the
SFRB's free daily email notice so you can be up-to-date on our latest articles. Scroll up this page to the sign-up field on your right.