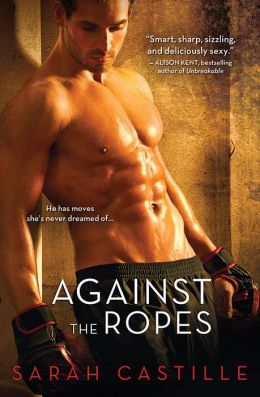 Scary, thrilling…powerful. Got to be Against the Ropes.
MMA books seem to be the rage. Literally. There are hunky, sweaty guys acting all alpha male and the women who love them. What's not to love? Hey, when I saw the title and description, I was hooked.
Then things sort of fell apart.
Okay, I did like this book. The premise, a controlling MMA-style fighter and the woman in his arms, is hot. The story is interesting–to a point.
Makayla and Torrent aren't what they seem and that's a good thing. They kept me interested in the story. I had to know what would happen next. But while they were like coins – different on each side – things got a tad muddy. Let me start with Makayla. She's got issues which I learned about little by little. Fine. She likes safe and isn't wild about violence – I mean, she's NOT wild about violence. Cool. But some of the things she does don't make sense. She's immature, but okay with the games she and Torrent play. She hates violence, but is fine with the blood/gore of fighting. Hmm. Something didn't add up. There are moments where she's laughable and made me wonder. Then there are moments where she's a spunky character.
Then there's Torrent. I kind of liked the guy having two sides. One side is the fighter. One side is something else. He ended up with a bit more dimension than I expected and it worked for him. What didn't work was the almost overboard alpha male-ness of him. He's controlling to the point where I was skipping pages. I wanted to like him, but his nuances made it hard. He's controlling and in charge, but there were moments where I wondered whose safety he worried about. Maybe if there was a little more explanation, especially during the sex scenes and between Makayla and Torrent, then this wouldn't have bothered me as much.
This book is also written in first person point of view. I'm not wild about first person, but this might work for other readers. If it does work for you, then great.
There is a lot of action in this read and a lot of hot sex. If you want a book with BDSM that's not as harsh as it could be and fighters, then this might be the book for you.



Editor's note:
This article was originally published at Long and Short Reviews. It has been republished with permission. Like what you read? Subscribe to the
SFRB's free daily email notice so you can be up-to-date on our latest articles. Scroll up this page to the sign-up field on your right.