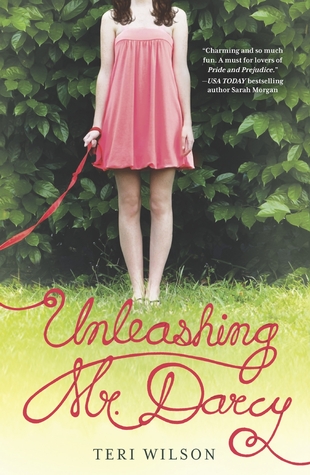 Although I am often skeptical how a retold story will turn out, in general I like reading the classics retold. There is something reassuring in the familiarity of the plot, in the idea of knowing how a story will end and that the hero and heroine will find their happy ending. I am skeptical because I wonder, "what if the retelling is so bad that it will spoil my love for the original classic in question?". Fortunately, Unleashing Mr. Darcy was a fantastic read and Ms. Wilson has done a great job.
The story has some similarities with the original classic tale, foremost are the characters. There is Elizabeth and Mr. Darcy, Elizabeth's sister and Darcy's friend, the grim aunt, and of course, villains. Elizabeth and Darcy are still full of pride and prejudice. Ms. Wilson also chose to put some memorable scenes in the story but with a twist. More or less, that is where the similarities stop and the difference begins. Elisabeth became American, some new characters are introduced, some well known characters' roles are diminished and some characters' names are changed. The author also decided to add a lot of steamy kisses, one lovemaking scene and a lot of sweet dogs in the story. These additions spiced it up and made it more unpredictable, which I liked a lot. What I especially loved about Unleashing Mr. Darcy is that the story provides the reader insight in both Elizabeth and Darcy's standpoint and I was so happy that I could finally see what is on Darcy's mind.
Reading Unleashing Mr. Darcy created a multitude of different emotions in me. I laughed (during charming Elizabeth and Darcy's conversations), I cried (when love was not returned),and I wanted to punch some characters (when injustice was done). All in all I really enjoyed it, and when I read the last sentence I was truly sad because it ended.
As a true fan of Austin's Pride and Prejudice, it is pretty obvious that I was not disappointed with this particular retelling of the story. I am so happy that I read it and that it made me want to re-read and to watch all the TV and film adaptations of the original one more time.


Editor's note:
This article was originally published at Long and Short Reviews. It has been republished with permission. Like what you read? Subscribe to the
SFRB's free daily email notice so you can be up-to-date on our latest articles. Scroll up this page to the sign-up field on your right.