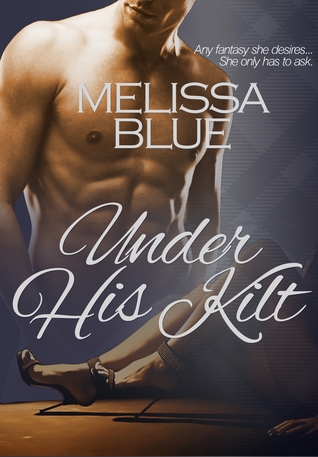 First let me say that I enjoyed this story so much I had to read it again. It was so entertaining, the characters were hot together and the interaction between them was great. There was lots of humor, erotic love scenes and a story line that you could relate to. I've read other stories by Melissa Blue and each time just like now, I have been left completely satisfied. Melissa Blue is an excellent writer and a great storyteller.
Under His Kilt is about Jocelyn Pearson who worked in a museum with Ian Baird whose smoking good looks made her want to crawl all over him. Too bad Ian had a rule that he lived by, he did not sleep with women he worked with. Ian didn't want complications but being around Jocelyn made him question his rule. He knew she wanted him and he wanted her, but should want outweigh common sense.
Jocelyn didn't care that Ian had this rule, with his Scottish burr and his smoking hot looks she would do whatever she needed to do to get into his bed. After all she would be celebrating her thirtieth birthday soon, and she had a list of all the things she wanted to do. Ian was on her list and was one of the presents she wanted to open, so she was going to make sure she got that chance.
I loved the interaction between these two characters, the chemistry and attraction between the two of them almost leapt off the page. It was funny when Jocelyn would say things just to see what Ian's reaction would be, and how quickly he would respond which sometimes threw her off balance.
There weren't many other characters in this story, it was centered mainly on Ian and Jocelyn but the author created such a good story that other characters weren't needed. The sex between Ian and Jocelyn was hot and the author's description of everything Ian did to her and her to him made you as the reader sigh.
As I said, this was such an enjoyable story that I had to reread it, and every reader should have at least one or two books in their library that they would read again and again. Under His Kilt is one of those books, so if you want to laugh, sigh and be completely entertained pick up a copy of Under His Kilt by Melissa Blue.



Editor's note:
This article was originally published at Long and Short Reviews. It has been republished with permission. Like what you read? Subscribe to the
SFRB's free daily email notice so you can be up-to-date on our latest articles. Scroll up this page to the sign-up field on your right.