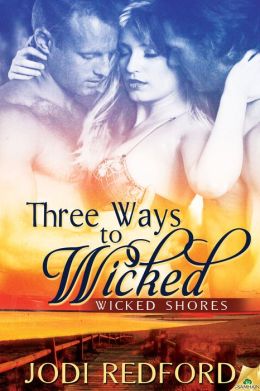 With her inspiration on a temporary hiatus, Kayla never expected a two week stay at a friend's beach condo to jump start more than her writers block.
Kayla English writes erotic romance but not so much from experience as from a vivid imagination she inherited from her father. While she gets lots of encouragement from her friend Bailey, she's currently on the outs with her mom over her rather explicit genre choice. I've talked with many erotic romance writers and this isn't unusual. The family who should be supportive are often the very ones who never know or maybe never acknowledge what's being published. Having heard these stories firsthand made Kayla's story all the more realistic.
Luckily for Kayla, she doesn't simply gain a quiet place to work for a couple weeks, she walks right into a steamy scene that could have come from one of her books.
Ty and Gibb have been best friends since they were kids. It was only recent, and with the help of some liquid courage, that they allowed themselves to realize there was more than just friendship between them. It didn't end well. I'll simply say one of the men compensated by working his way through every available woman in town (sometimes two at at time) and the other thought marriage was the answer. Not surprising, they were both wrong. Enter the one who got away who also happens to be the one who can bridge the missing piece between Ty and Gibb.
I really enjoyed this book but that didn't surprise me. Everything I've ever read of Ms. Redford's was purely entertaining. The plot isn't heavy, the dialogue between these three (especially when Ty opens his mouth) is straight up dirty, and there's just the right amount of heart and story outside the threesome to give it substance and purpose. Kayla's issues with her mom and later a secondary character built some tension into the story to see how or if their difference would be resolved. While resolution isn't absolute in this story it did leave an opening to come back to these character later.
I wanted Kayla to be as bold in real life as she was in her writing. It made it all the more sweeter that it was the encouragement of the two men who had loved her forever that helped her see her own worth. This isn't a one sided relationship, which was nice. Kayla gives the men what they need to be able to open up and be honest with each. Once they all agree about what they want, be prepared for some serious fire and creativity. If the idea of double-penetration has you feeling a little light headed you might want to reconsider this book but I'd encourage readers to give it a chance. Ms. Redford makes a very good argument for pushing the envelope. I'll be interested to see what she does next.
Speaking of future books, Ty's sister Bailey reveals a tantalizing secret towards the end of the book that has me so excited to read the next book. I can't reveal what but it also had me flipping back through the story to see if there were telling hints that I had missed.
This is going to be a fun little series to read and there are plenty of single characters left over in Wicked Shores (great name for a town, BTW) to keep me coming back for more if Ms. Redford chooses to write their stories. This is one reader who has her fingers crossed! I hope you'll join me in this quaint little seaside town for all the excitement of friends coming home, families reuniting and love in the most unexpected places.



Editor's note:
This article was originally published at Long and Short Reviews. It has been republished with permission. Like what you read? Subscribe to the
SFRB's free daily email notice so you can be up-to-date on our latest articles. Scroll up this page to the sign-up field on your right.