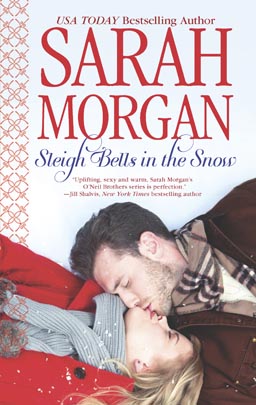 Sleigh Bells in the Snow is a heartwarming, feel good, totally romantic story filled to the brim with wonder and holiday magic. I'd just finished reading a less than stellar book and picked up this one by Ms. Morgan in the hopes it would be better. I'm sure other readers know what I'm talking about. The amazing thing is, Sleigh Bells in the Snow was better. In fact it erased completely the screech marks left in my brain from the last book and replaced it with joy, relief, intense interest, complete engagement with the characters and a warm, gooey happy feeling by the end. I was so overcome with happiness and satisfaction, I wanted to hug the book. Since I'd look pretty goofy doing that, I had a celebratory chocolate instead.
The basic premise is about a woman scarred by events in her past which has the undesired effect of making Christmas and anything to do with it such an anathema, she has panic attacks. Enter in a man from a family who embodies what the holiday's meaning is all about and chaos ensues. The scenario has been done before but Ms. Morgan introduces her own special touch that makes this plot her own. The one thing that I can count of from this author is a tale filled with people who a reader can relate to, feel connection with and can care for. She outdid herself with this novel.
The story is told from both Kayla's point of view, and Jackson's. It was effective because when she has her first major breakdown, I could understand why it was so harrowing and traumatic for her. When the POV switched to Jackson, I got to see a man totally flummoxed by the heroine's reaction and his internal dialogue revealed why he would not allow her to run. It was a set up that guaranteed my attention and curiosity was roused. I had to know how in the world Jackson was going to break through Kayla's trust issues in order to reach her heart. It's a journey worth reading.
Don't assume that Kayla's panic attacks turn her into a jabbering mass of female. Far from it. She's an ice maiden and her choice of coping skills has worked in her favor – to a point. If a reader has been fortunate enough to see the movie Baby Boom with Diane Keaton, and love it like I do, then they'll see some resemblance to Ms. Keaton's character. The difference is that this high powered, tiger in business doesn't get sidelined by a baby, but a cute, chocolate-eyed little puppy. The 'awww' factor is quite solid.
The romance isn't built on physical loving but on words, actions and wondrous scenery. Jackson has tremendous patience with the heroine. The story explains why that is possible. Readers are in for some scenes of romance that will knock their socks off. The waterfall scene was my favorite. The way he proposed truly tugged the heartstrings. If Hallmark were looking to make a Christmas holiday movie, I really wish they'd choose Sleigh Bells in the Snow. The story explores all the emotions and made me laugh, sniffle, smile, melt, and when Kayla and Jackson do succumb to their powerful feelings, I felt hot and flustered, in a good way, too.
Another reason for my believing this would make a good movie is Jackson's family and the community in which the story takes place. This is the first book of a three part trilogy based on following Jackson and his brothers finding their happy ever afters. The author had the daunting task of not only world building but creating interest in his other two brothers, Tyler and Sean, without diluting the focus from Kayla and Jackson's romance. The author succeeded. Ms. Morgan wrote a very solid standalone story.
This book is rich in dialogue and quirky people. I got a kick out of the French cook and the family friend who teaches skiing. Sniffles were generated at the powerful scene between Tyler and his teenaged daughter. Concern and grudging respect was felt for Jackson's grandfather – he's a crotchety old man with a heart of gold. And Kayla's boss is a man totally clueless about what really matters in life. His character, although limited on screen time, helped illustrate very clearly the woman Kayla initially was and how different she came to be – effective and powerful writing.
I was extremely satisfied with the manner, pace and direction the author took with Jackson and Kayla's romance. The emotions that battered the two of them, their reactions and subsequent results made for quality reading.
Sleigh Bells in the Snow is a powerful read. It's a simple statement for not such a simple book. Ms. Morgan has created the 'must read' romance book for the holidays. She captured the essence of what makes the season so incredible while entertaining readers with her characters. This tale has the capacity of garnering Ms. Morgan some new fans for her books while making her current readers very happy and satisfied. I know I am. I also heartily and loudly encourage fans of holiday romances to not miss out on this book. It's a treasure.



Editor's note:
This article was originally published at Long and Short Reviews. It has been republished with permission. Like what you read? Subscribe to the
SFRB's free daily email notice so you can be up-to-date on our latest articles. Scroll up this page to the sign-up field on your right.