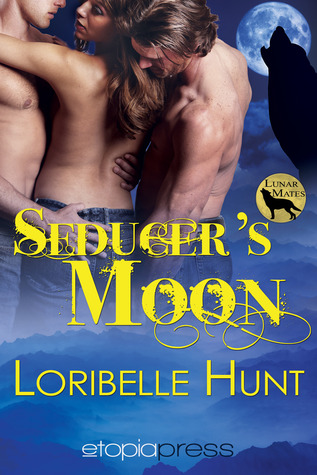 The story was exciting and sexy, and it pulled me in right from the start. I liked the way this book was written and I enjoyed it very much. It is a great paranormal romance.
Seducer's Moon is the ninth book in the Lunar Mates series from author Loribelle Hunt. I enjoy reading romance novels about werewolves and the often mysterious world they live in. So I found myself easily intrigued by the world that Ms. Hunt has created. Her wolves in this book were sexy, with all the right alpha attributes. Strong and fierce, possessive and protective. Gage was possibly more brooding and secretive than he had to be with Marilyn. After all, he almost pushed her too far a couple of times.
The book had an exciting plot and some compelling characters that kept the story fast paced. There was a lot of romantic angst and drama. Uber Alpha Gage Rylon has been keeping a cool distance from his mate, Marilyn, for years. He has been hiding his identity from the world. The truth will bring danger to his mate, and he felt it wasn't safe, so he pushed her away until the time was right. Now it is time for all to be revealed and he is determined to claim his mate. The problem is that Marilyn has always known that they were mates, and his rejection was a hurt that cut deep. Then Gideon, the twin brother that he has been hiding, shows up to take his back in a coming fight. It seems that he is also Marilyn's mate. In this world that Ms. Hunt has created for the readers, twin wolf brothers always share a mate. So there it is, the secrets are deep and the revelations keep on coming. The author threw quite a lot of danger into the plot, and a crisis that brings these three lovers together. Hunt gave the readers not one dull moment in this story. She brought some twists into the plot, changing the series up a bit and opening the way to some new books, that I am anxious to read.
I loved each character in this book. Ms. Hunt did a fabulous job of bringing each one to life in a different way. Gage had that wonderful alpha arrogance thing going on for him. But the author did good by giving him a tender and romantic side that is bound to endear him to the reader, as well. I certainly got all sweet on him, when it was revealed how he'd been giving Marilyn those gifts on her birthday for all those years. So even though he had done some things that weren't nice, he had never forgotten that she was meant for him. Still, he almost let it go for too long, and he has some explaining to do when his deep dark secrets start to surface. I have to say that Marilyn was a perfect match for the alpha leader with a destiny to fulfill. She was a tough cookie, who stood up for herself without being shrill or foolish. She had been hurt by Gage, confused by his indifference, and she was capable of walking away from it all. Then Gideon came to town, and he was so different from his big brother. He and Marilyn had the same chemistry, and they hit it off from their first meeting. Even so, there was some tense scenes between them all. Gage has been keeping things from both of them. Now, no secrets are kept hidden and they get into it a few times. It takes a minute for everything to work out between them. More wonderful and exciting scenes for the reader. The plot calls for a menage and that is exactly what the reader gives us. This book has scorching hot love scenes, a menage with some anal play and some BDSM. It was so lovely to read. *Grin*
This book had a lot of romantic heat, a riveting suspense and the kind of dramatic heartache that I love to read. The story was written perfectly and it all came together in a good way. I enjoyed every page as the story swiftly flew by. I really got into the story and the characters so that I was finished reading in just a few hours. I couldn't put it down. I would happily recommend this book to every reader.


Editor's note:
This article was originally published at Long and Short Reviews. It has been republished with permission. Like what you read? Subscribe to the
SFRB's free daily email notice so you can be up-to-date on our latest articles. Scroll up this page to the sign-up field on your right.