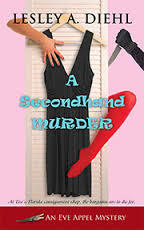 A Secondhand Murder is fun from page one!
A Secondhand Murder is filled with a myriad of colorful characters, and Eve is certainly the liveliest of the bunch. With a personality and physique of Amazonian proportions, Eve sprang to life in my mind immediately. I could clearly picture her running around in stilettos trying to solve the murder before her store goes out of business. Eve's stature makes her an imposing figure, and she has the attitude to match. Unfortunately, her sharp retorts have a tendency to get her into trouble. I must say that I find it amusing that someone so incapable of holding her tongue would go into customer service. Eve's struggle to bite her tongue is a never ending source of entertainment.
Eve certainly has a knack for attracting interesting people. From her sweet yet accident prone best friend to a mobster with a fondness for Life Savers, a zany cast of characters parade through her life leaving chaos in their wake. Jerry, Eve's ex-husband, is particularly entertaining, though I had a hard time figuring out where he stood. I knew he was guilty of something, but I wasn't sure of what. Eve has a soft spot for Jerry, but he was always on my list of suspects.
I enjoyed most of the characters, but I must say I was a little disappointed with Alex, the private investigator Eve finds herself lusting after. At first he seems strong, sexy, and confident. However, as I read, he morphed into a sulky, jealous man who followed Eve around like a lost puppy. This abrupt change gave Alex an air of desperation that I found hard to accept given the short amount of time he'd been acquainted with Eve.
Not only is A Secondhand Murder filled to the brim with entertaining characters, but the mystery contained in its page is also well crafted. Everyone, even Eve, seemed to have some sort of secret. I enjoyed peeling back all the layers of this story as I tried to figure out what was related to the murder and what wasn't.
I absolutely enjoyed reading A Secondhand Murder. The web of murder and deceit is well spun, but the characters Ms. Diehl has created are truly the shining stars of this book. Anyone looking for a laugh out loud, fast paced mystery would do well to pick up A Secondhand Murder today.


Editor's note:
This article was originally published at Long and Short Reviews. It has been republished with permission. Like what you read? Subscribe to the
SFRB's free daily email notice so you can be up-to-date on our latest articles. Scroll up this page to the sign-up field on your right.