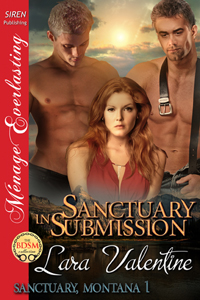 Sanctuary in Submission is the first book in a new series by Lara Valentine. This book surely started the series off the right way. It was a very sexy and entertaining story. I enjoyed it from start to finish and wanted even more.
When the story opens Aubrey has already broken up with her two long time boyfriends, Noah and Riley. They have been in a relationship for ten years and the guys don't seem to take it seriously. Their love is not in question, but their commitment is very much in doubt. She is tired of waiting around for them to grow up and settle down. So she kicks her guys to the curb.
Riley and Noah are two sexy ranchers. They know how much they messed up with Aubrey. And they want her back. They have to convince her that they've changed. They take matters into hand and it works out for them, though Aubrey's forgiveness comes with a warning: this is their last chance.
I liked this book. Aubrey and her men made a wonderful triad to read about. They had some problems and the author showed it. She showed their doubts and fears right along with the love and lust. So the reader gets a compelling story with a passionate romance. Riley and Noah needed to quit playing around and make some changes in their life. They had to convince their woman that she could count on them. They had to show Aubrey that they loved her enough to do that. It was great that the author never made it seem like Aubrey was perfect either. She had to make some changes too. She had to learn to have faith and let some things go. The story showed the characters self exploration and their realizations for the reader to say. So she didn't just tell me these things. She showed them to me and that is what I liked about the book. It was exceptionally well developed.
Now let's talk about the love scenes. Yeah. You know that you want to hear all about that. *Grin* The love scenes were excellent ! Some scenes are played out at Consensual, the BDSM club in town. You know what that means ! Our triad gets busy exploring with some very kinky toys and situations. The storyline includes some playtime in a dungeon where the guys punish their submissive using some kinky toys from their bag of tricks. They go hard core in some situations, with floggers, crops, and more than a few unique items of interest. The nature of the story means that there was some anal play, and a couple of steamy three way sessions as well. So if this bothers you to read then you may need to stay away from this one. For me it was fantastic and very well done.
I like the author's writing style and the way she tells her story. It was strong storytelling. The plot was good. The story line flowed just right and the new series was set up nice and neat. There was a suspense element that kept things moving along. It had a twist that was totally unexpected and a villain who was a piece of work.
The series is set in the town of Sanctuary, Montana where the menage lifestyle is the normal way of life. Done the right way, I think this is a great hook for a series. I've read a few series like this one. I felt that this author did a fantastic job in the world building for her new series. She spun a good tale of romance and suspense, while introducing a lot of interesting characters in the story. I was intrigued as I'm sure that they will each have a story to tell. So this first book tells me the story of Aubrey, Riley and his brother Noah. They were an fascinating trio and I enjoyed reading about their journey.
I spent a few hours enjoying this book. Then I wanted more. I met so many interesting characters here. Now I really want to hear their stories. So I will be eagerly waiting for the next book to read. I would recommend this book. In fact, I already have raved to my friends who like the steamy romantic ones too. So I gave it my stamp of approval.



Editor's note:
This article was originally published at Long and Short Reviews. It has been republished with permission. Like what you read? Subscribe to the
SFRB's free daily email notice so you can be up-to-date on our latest articles. Scroll up this page to the sign-up field on your right.