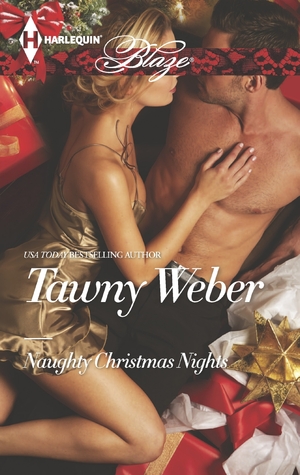 Desperation is the mother of invention. In this story, it's also the catalyst for inappropriate hots for The Grinch, a tree decorated to incite giggles, madcap assumptions and a Hugh Hefner inspired plot twist. Ms. Weber has outdone herself with holiday hijinks but managed to deliver a very touching story that was real as well as poignant. For many people, the Christmas season has its lows as well as highs and the author used her characters to effectively illustrate that.
Gage is the hero who has a lot to learn. He's successful and a force to be reckoned with in the marketing field. He's a player who is as smooth as glass when it comes to seducing the ladies. He gets what he wants whenever he sets his mind to it. He's a man who is more than overdue for a set down and it comes from the least likely source – a sunny elf.
Hailey is an up and coming designer who has incredible talent and won't take no for an answer. She's optimistic, cheery, and an all-around sweetheart. She's also experiencing the worst possible scenario of her life – failure. How can this chipper go-getter make things turn around? By making an assumption and acting on it. Whoops.
Ms. Weber first introduces her characters as the people other people see when they look at them. Surface only. Gage comes across as a son suffering under his father's thumb and is resentful and feeling trapped; but of course no one knows that. Hailey has the people around her thoroughly convinced she's got it all together, because she's the only one she's ever had that she can depend on – but one person knows the truth.
Then the author throws Gage and Hailey together and the fun begins. There is a mix-up in assumed identities in the beginning which was a great hook. I was wondering how they'd figure it out and what their reaction was going to be. Then there was the contest. Not only was it amusing but what happens in the restaurant was H.O.T. As the hero and heroine rise to the occasion to meet the challenges set before them, they start learning about each other and opening up about important milestones in their lives. That is when the story found its heart. Sex is fine, and those scenes are of course well written because Ms. Weber is very good at writing them, but what they learn about each other made the story much more meaningful and endearing.
Gage did not have a normal childhood. He didn't know any different until Hailey. That threw him for a loop and I liked how the author had him process that and then take charge. I was very proud of the hero at that point. As for Hailey, her childhood was messed up in a completely different manner, but no less damaging. Gage pushed her, challenged her and got her in touch with her inner temper goddess, so much so that the results were astounding.
One of my favorite parts of the whole book was their discovery of what Christmas is really about and how Gage and Hailey took steps, some unconventional, to make the holiday their own.
Secondary characters are very important to this book but there are three main contributors. One of them showed great courage and in doing so, empowered Hailey to reach for her full potential. It was rather heady but scary too. It also raised the bar for being emotionally connected to the characters. There were two others that were in the beginning but I figured out later that they were throwaway characters – they got the hero and heroine where they should be on stage in the beginning and then they disappeared. And if I was supposed to be engaged with or curious about Gage's brother, I'm not. As far as I know this is a standalone read, and not a segment in a series, and I'm okay with that.
Dialogue was fun and hysterical at times. I enjoyed how Hailey and Gage bounced off clever one-liners and zings at each other. The pace of the story was good and it kept my interest. The editing was clean and the plot was engaging. The wrap up for the happy ever after was adorable, romantic and satisfying.
Naughty Christmas Nights is a cute, sassy and entertaining story. The romance is solid, Gage and Hailey were fun to get to know and the conflict was light yet effective. This is the kind of book that's easy to read, delivers plenty of smiles and laughs and makes a person feel good after reading it.Naughty Christmas Nights is a definite recommend.


Editor's note:
This article was originally published at Long and Short Reviews. It has been republished with permission. Like what you read? Subscribe to the
SFRB's free daily email notice so you can be up-to-date on our latest articles. Scroll up this page to the sign-up field on your right.