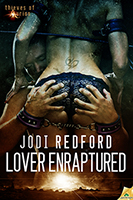 Jerrick Hunter is a professional thief, the best Fae thief around. When he is hired to find a reclusive scientist and his mysterious formula, he soon learns that it is hidden away in a popular sex club, one where Fae are only allowed when accompanied by humans. After much consideration, he contacts the female he used to partner with, although it is against his better judgment.
Avily Donahoe is human, and Jerrick pushed her away from him when she offered her innocence to him many years ago along with her love. It isn't that he doesn't care for her, it's that he cares too much, and thinks she deserves better than a Fae thief to love her. When Jerrick approaches Avily, he proposes that they go in as a couple, with Avily as his sub partner, but Avily changes their roles and Jerrick becomes 'sub Bill' to Avily's domme role. As their adventure continues, those that hired Jerrick threaten Avily, and Jerrick discovers just how far he will go to keep her safe from harm. And he also discovered that there are some hidden agendas to this whole operation, with other players looking for the same objective, for different reasons. Can Avily play her role convincingly enough to help Jerrick gain his objective? Can Jerrick keep her safe, and keep his heart from becoming involved? Will these two finally give in to the passion that rises every time they are together?
Jodi Redford has built an intriguing world with this one, the long awaited follow up to Lover Enslaved. There is an edge to this society, and the atmosphere is daring and a bit dark, with characters that are well defined and passionate. I like this world, and hope Ms. Redford will visit it again, with stories of some of the characters from Lover Enraptured.
Avily Donahoe is a strong and independent woman. She has loved Jerrick Hunter for a long time, and has finally decided to move on after many years of unrequited feelings. When Jerrick comes back into her life with a business proposition, Avily is determined to make sure everything goes her way this time, and tell him so, in no uncertain terms. I like Avily, with her strength of character, and her never give up attitude. I like that she is willing to face Jerrick and set the rules for the job ahead, not letting him get the upper hand.
Jerrick Hunter is a Fae thief, a handsome and talented one. He also has a code of honor, and he pushed Avily away years ago because, in spite of his feelings for her, he feels she deserves more that a thief and scoundrel in her life. When he has to go to her for help, he has to accept her terms, and then when she is threatened, he will go to any lengths to keep her safe. I like Jerrick, with his honorable intentions and his determination, and I enjoyed watching as he slowly fell under Avily's spell. I also like that he was willing to follow her lead when she set the rules for their partnership.
This is a fast paced story, with action and danger around every corner, and lots of seriously hot tension between Avily and Jerrick. The secondary characters in this are intriguing, and it is surprising who works for whom in the greater scheme of things here. There are some tender moments between Jerrick and Avily, and because this is a Jodi Redford book, there are some scorching hot spots as well. Do Jerrick and Avily find the formula, keep the evil doers from winning, and find a happy ever after? You will have to read Lover Enraptured for the answers to these questions.



Editor's note:
This article was originally published at Long and Short Reviews. It has been republished with permission. Like what you read? Subscribe to the
SFRB's free daily email notice so you can be up-to-date on our latest articles. Scroll up this page to the sign-up field on your right.