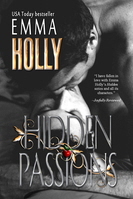 I'm so excited for Tony! He gets his happy ever after! However, this being the Pocket, jam packed with supernatural politics, Fae plots and interspecies rivalries, getting to the happy ending takes a bit of work. It was plenty hard on the hero but it was great fun for me.
I wouldn't read Hidden Passions without reading Hidden Dragons first. The reason being is that Tony's story takes place practically simultaneously with his brother Rick's story. I loved how Ms. Holly wove the two together. There were times in the first book that the brothers worked together until Rick went his own way to save the baby dragons. This story takes those short scenes and tells them from Tony's point of view. Where I knew what was going on in the background, Tony hadn't a clue. I felt so bad for him because I couldn't tell him all would be well, eventually. What I found profound about Hidden Passions was seeing how not knowing induces so much stress, worry, anxiety and fear in the loved ones left behind and out of the loop. It was an effective emotional hook and well written.
The emotional conflict of not knowing what's happening to his brother notwithstanding, the more potent and relevant personal conflict comes from Tony's being gay and out, being lonely and feeling like he's on the outside looking in. Ms. Holly tackled the sticky wicket of how unfair it is to be burdened by the expectations and judgment of society all because you like/love the same sex. Some are courageous enough to stand up and be who they are 100% and others, like Chris, the other hero, who hides his preference. Chris is fully aware that those he works with are not tolerant at all. His job is his life and his salvation and no way is he going to put that in jeopardy. That conviction was strong up until Chris actually had a chance to meet Tony. That's when the sparks flew, the attraction became overwhelming and the fun began.
The very first passionate encounter with Chris and Tony was electric. Not only was it well written but it was seductive and feelings were definitely in play. Erotic romance readers and fans of M/M romances will find the love scenes hot, convincing and exciting.
While most of the love scenes and interaction between Chris and Tony work, there were times when I felt Tony's character fell flat. In mulling it over, I came to the conclusion that for the critical fight scene to work, I had to believe in his capabilities. I don't believe the author showcased his skill on the job enough to convince me he had the proficiency to take on the quasi-villain. For Nate, one of the secondary characters, to make a statement that Tony could wasn't enough to make me believe it. I wish there were more examples of his expertise prior to that pivotal moment. Previous to that, I saw Tony being submissive to Chris. Tony isn't a wimp, far from it. There were times when he was the aggressor in the relationship and that was fun too. Still, there's something. Maybe it's because Tony is younger than Chris? Maybe that's what I saw? I'll have to leave it up to other readers to decide. Maybe it's just me.
Overall, this story rocked. There are surprises with the dragons, some major decisions that have to be made and it was actually quite fun to re-visit the party and see it through someone else's eyes. I enjoyed the dialogue, the fast pace of the story, the dynamics between the two men and those they care for and the conclusion of Chris' personal journey. Whereas Hidden Dragons was an adventure with a daunting external plot and plenty of action, Hidden Passions is about romance and falling in love.
Hidden Passions is a sexy, potent and engaging romance that's a sure pleaser. If anyone had their heart strings tugged when they first met Tony in the previous book like I did, then they're going to be so relieved and happy for him as he finally finds the love he thought he'd never have. The kind of powerful passion that his brother Rick and Cass share is duplicated between Chris and Tony and the happy ever after convinced me he's finally contented and at peace. I'm a happy reader.



Editor's note:
This article was originally published at Long and Short Reviews. It has been republished with permission. Like what you read? Subscribe to the
SFRB's free daily email notice so you can be up-to-date on our latest articles. Scroll up this page to the sign-up field on your right.