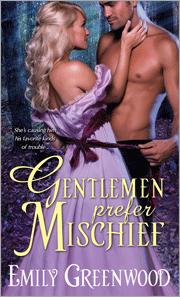 Lily Teagarden feels like she lives in an invisible cage and has for most of her life. So many secrets she guards and yet her strongest desire is to do something worthy and she does. She is driven by the desire to help improve the lives of the people in her community. She does not want to be a disgrace to her family because she sells her shawls: but she wants the money to do good deeds with it.
Lily's plans have been stymied by the "Woods Fiend", superstition, and gossip. She wants the whole mess to go away and she feels like her irresponsible neighbor Captain Hal Waverly, the new Viscount Roxham should see to it. After all, the "Fiend" is in his woods. She tells herself she is over her teenage crush on the gorgeous, mischievous, teasing Hal who stole her journal when she was sixteen and never returned it. As she marches over to confront him, she huffs about Society calling him "Lord Perfect," quite sure he is still a seeker of diversions and without anything to recommend him.
Hal has earned his reputation fair and square. As the second son who always disappointed his parents, he seemed to work at being a wastrel until he bought a commission and went to war. As a Captain of Foot Guards in Spain, he learned some hard lessons and came to have a strong sense of justice and compassion. He was good at soldiering but had to come home when his older brother died. By Hereditary Rules of the realm, he became Viscount Roxham with responsibilities he had not been trained to handle. The viscountcy is onerous to him. He seeks diversions again. But Lily sets his life on a new course, one he had not anticipated.
The secondary characters have a side story or two of their own. But, for the most part, they serve to highlight the conflict between Hal and Lily. Eloise, Hal's sixteen-year-old sister is finding her way into the world of eligible men. Her antic are entertaining yet touching as she finds what she imagined a man to be and what he is in real life. The stiff Earl of Ivorwood and the scientific, rather absent-minded Gregory Donwell have her young mind and body on full alert.
The side story about Nate Becket and his family's connection to the Viscount's family brings suspense and a touch of mystery into the mix of things. Nate and Lily have a unique arrangement that keeps emotions astir.
Gentlemen Prefer Mischief is most satisfying because the reader is in on the secrets for the most part that gives one a feeling of being right there in the thick of things.
The love scenes belie Lily's saying she doesn't trust Hal. The intimacy they share from Lily's first kiss to the ultimate in lovemaking is precious and unique.
Emily Greenwood's delightful characters that are so well developed and the humor that threads through the plot make Gentlemen Prefer Mischiefcaptivating; plus,it gives the reader points to ponder about how childhood experiences shape one's life in later years. Good reading!



Editor's note:
This article was originally published at Long and Short Reviews. It has been republished with permission. Like what you read? Subscribe to the
SFRB's free daily email notice so you can be up-to-date on our latest articles. Scroll up this page to the sign-up field on your right.